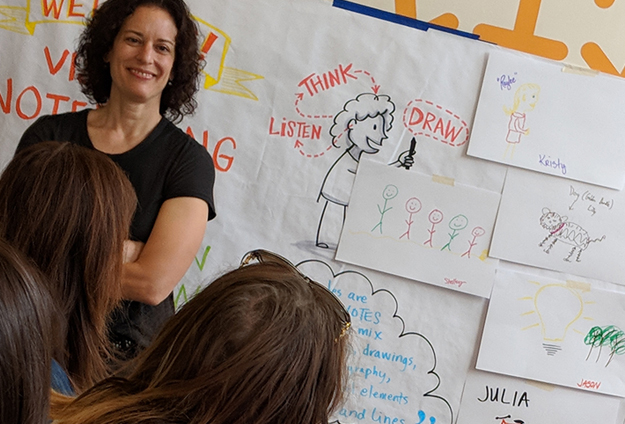 Here are just a few topics around Visual Thinking, Visual Communication, Visual Practice, and Brand Strategy that I've delivered as workshops, trainings and other presentations. Custom experiences for your group (and one-on-one, for consultants and other professionals) are happily developed.
I found your presentation useful, reinforcing, and inspiring — Useful in that it provided an organized approach to assessing a Brand's meaning, purpose, and value. Reinforcing in that when I thought of our Brand, many of the questions you asked were answerable in the affirmative! Inspiring in that many of the questions asked were "oh, yes, we should know that and/or do that" reminders — creating a to do list — for which I am grateful."

– Bill G.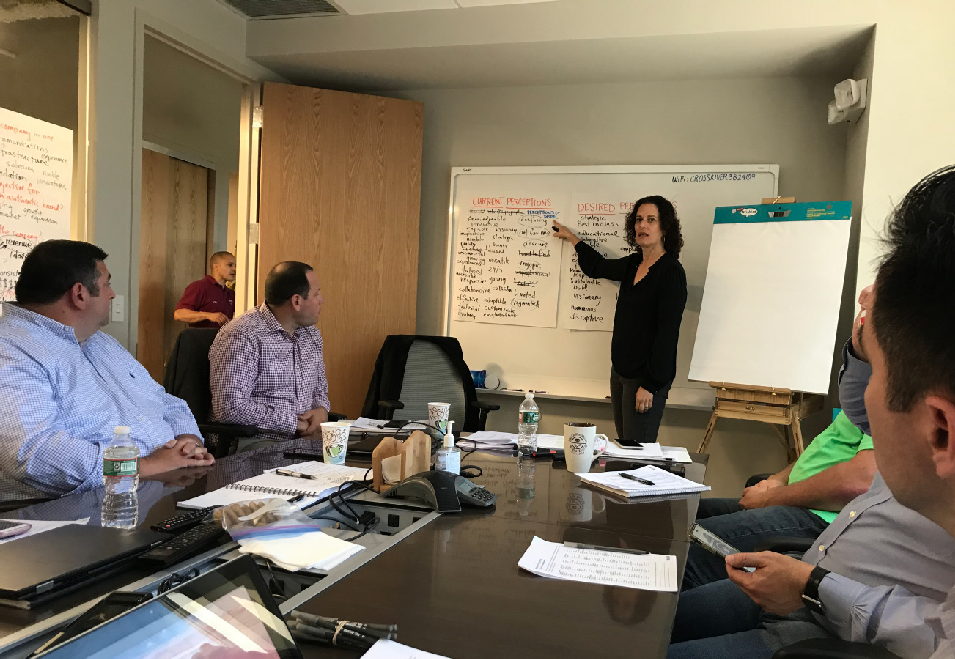 → Brand Strategy
For organizations, consultants and other individuals, this is an intense, enjoyable, inspirational experience designed as a time to get clear on the direction and vision of your brand.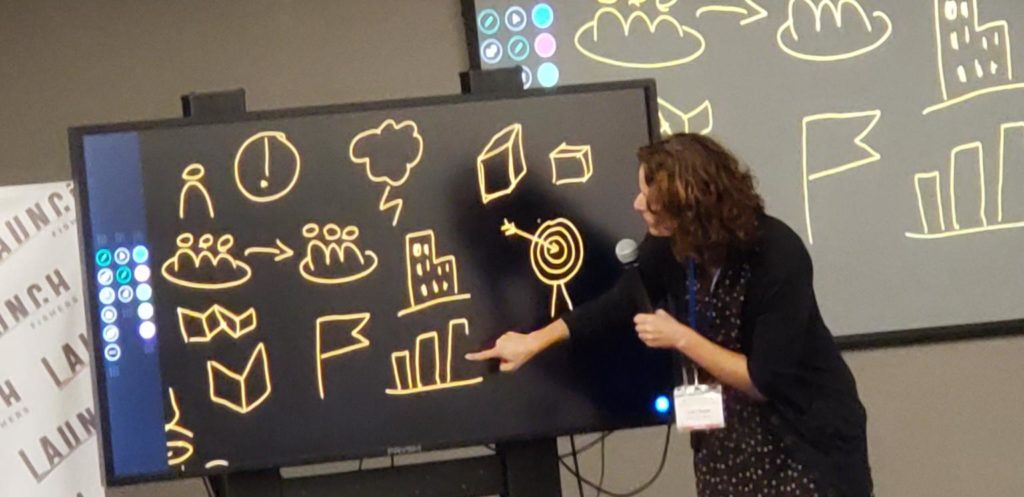 → Visual Meetings / Visual Language
Have you ever sat through a boring, ineffective meeting or tried to run a meeting where people were tuned out? Of course you have! People can only absorb and retain so much information. But just imagine, what if meetings were fun and productive instead? You don't need to be a graphic designer or illustrator, either – anyone can master these creative drawing techniques. Our tools are simple, too: a large piece of paper, colorful markers, sticky notes and worksheets (provided).
I wanted to give a huge "Thank You" to Julia for her phenomenal presentation today. Invite her to talk to your group, you will be very glad you did!"

– Eva G.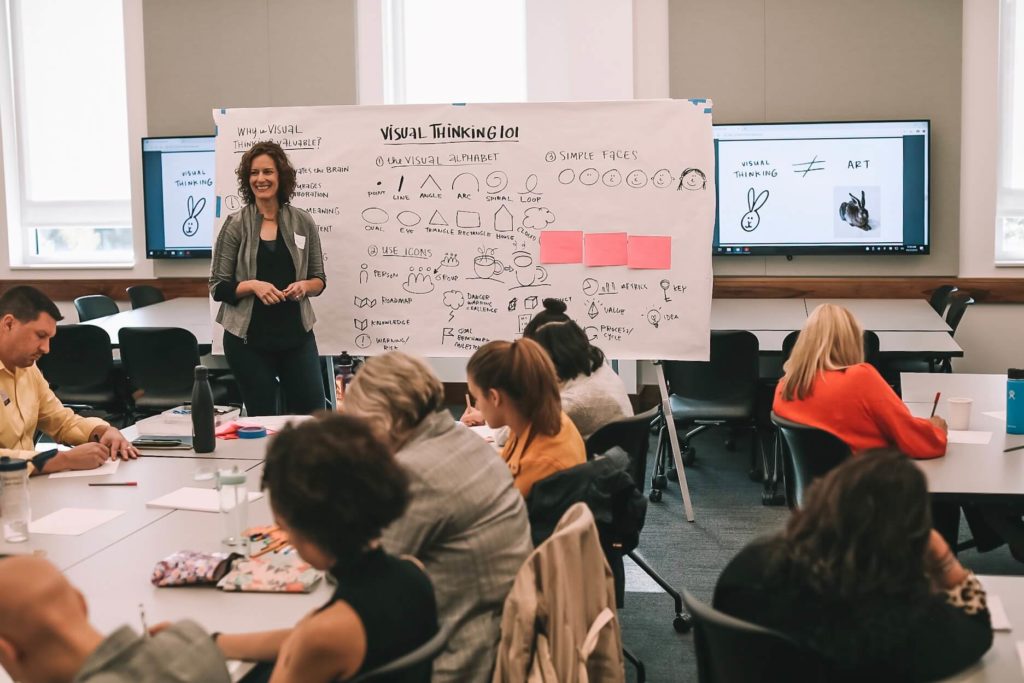 → Visual Thinking Strategies for Change
Visual thinking has the power to move individuals, groups and organizations forward. Visual tools and methodologies can be easily woven into the planning for any meeting or workshop where the focus is on efforts to support positive change such as future planning, organizational change and team development.
→ Sketchnoting For Students (and Teachers)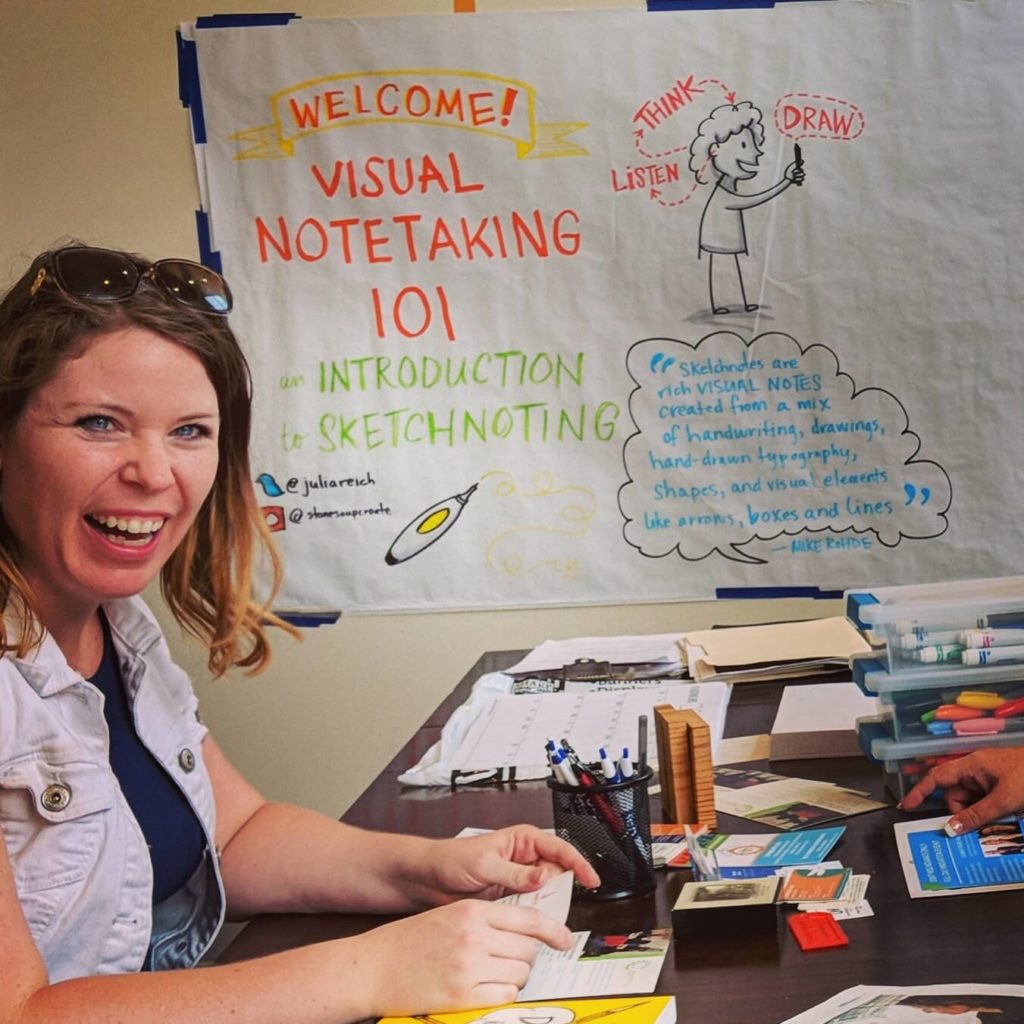 For students: Have you ever been in a lecture or class and thought: I really love this content and want to remember it, to make sense of this information in a way that is meaningful ? If you'd like to learn how to capture the themes and big ideas you're hearing, without writing every word, this workshop will teach you hands-on sketchnoting techniques.
For teachers: sketchnoting allows students to see the bigger picture in the concepts they are studying, make connections in their learning, and display their learning process—and all of that leads to better retention.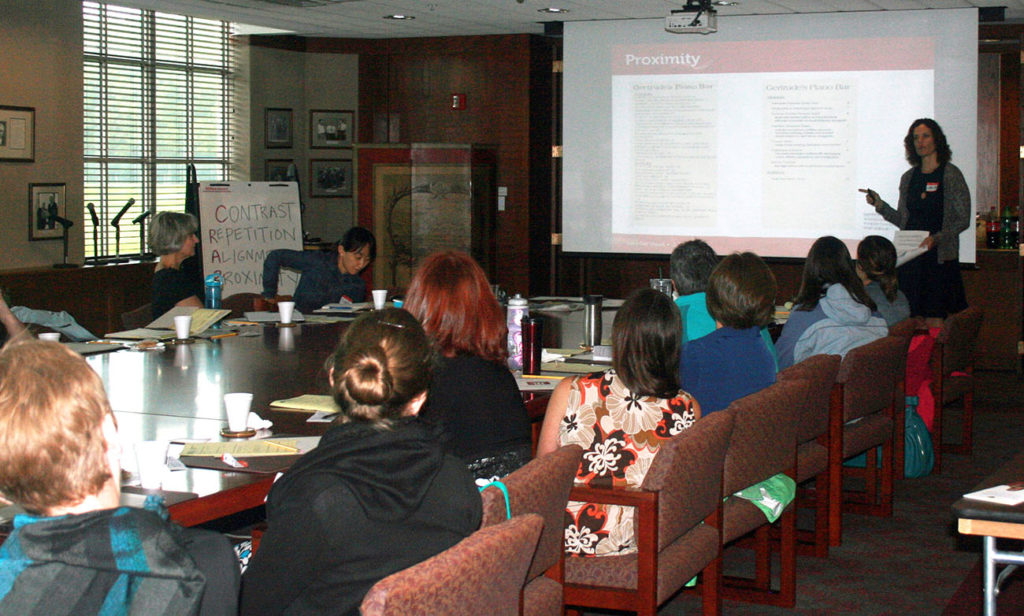 → Let's Get Visual!
[Also known as "Your Design Is Full of CRAP: How to Use the Four Principles of Graphic Design to Create Images that Engage Audiences"]
I believe an organization's marketing materials need no, require good design. Using the four principles of graphic design, I'll show you how to effectively communicate your mission and values using powerful messages and images that successfully engage donors, funders, media, volunteers and other supporters.
Read more about one of my Graphic Design Essentials workshops ›
Thank you so much for the workshop—it was amazing. All of the feedback we have received so far has been fantastic. They loved the content, the way you presented and the resources they were given to dig deeper."

– Tiffani G.
Want to get started?
Let's schedule a quick call
to discuss your next project or event
---
Calendar of Workshops and Presentations
Where I'm Going
There are no upcoming events at this time.