Hi, I'm Julia Reich, CEO—Chief Easel Officer at Stone Soup Creative—and visual practitioner. Which means I'm a graphic recorder, visual designer, and brand strategist.

Professional Highlights
MG RUSH Certified Structured Professional Facilitator (CSPF) and endorsed as a graphic recorder
Interviewed by Gerry Dick on Inside Indiana Business
Featured on the DRNK CLTR podcast, about Indianapolis leaders
Highlighted as a visual note-taker in the Indianapolis Business Journal's 2018 Innovation Issue
Earned the designation Brand Academy Certified Branding Expert (2015) from the Brand Academy
Participated in NY Designs, a unique design business incubator based in LIC, Queens
Co-founded SPARK, a group of independent graphic design business owners who meet monthly in NYC to enlighten each other on the business and creative issues that are relevant to design studios
Won the 2009 Small Business Award from the Cayuga County NY Chamber of Commerce
Featured in several design books including The Big Book of Green Design, 1000 More Greetings, Best of Business Card Design, and Recycling & Redesigning Logos
Named a "trailblazer whose career embraces the common good" by Catalysta.net (Profiles of Trailblazers who Innovate with Community in Mind: A Marketing Primer for Non-Profit Orgs)
Achieved Advanced Communicator Gold in Toastmasters
Former environmental educator
Trained as a mountain biking coach with the Bike Instructor Certification Program
Earned degrees from Pratt Institute in New York City and Hampshire College in Amherst, MA
Is an Enneagram 7!
When I'm not working, I'm:
Mountain biking
Spending QT with my rescued bulldogs, Violet (@violetthewigglepig on insta) and Yarby
Cuddling 8 cats
Adventuring with a Casita travel trailer
'Gramming @stonesoupcreate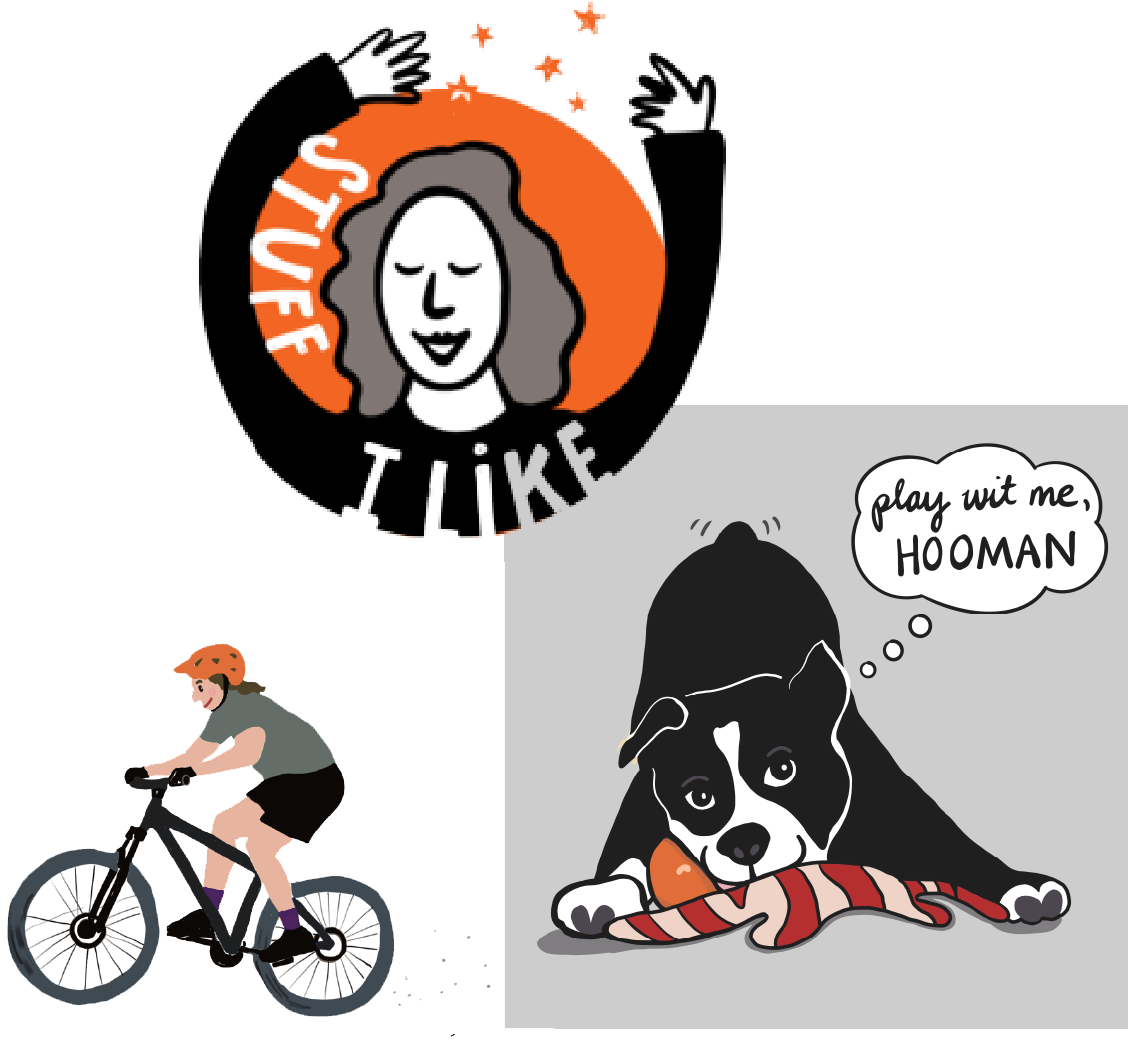 The Stone Soup Story
Have you heard the Stone Soup fable? Told in many versions, it's a story of creativity, ingenuity and teamwork creating something from nothing.
Hungry travelers arrive in a village. Food is scarce, and the villagers are unwilling to share what they have. The ingenious travelers begin a pot of soup by placing a 'magic stone' in boiling water. Curious villagers stop by, each sharing an ingredient to add to this stone soup. Ultimately, a delicious, nourishing pot of soup feeds everyone.
The Stone Soup Creative Story
The sum is greater than the parts
Individual items combine to make something bigger.
Like soup, creative projects consist of many talents & disciplines
Strategy often combines with visual design and content creation to support a goal.
Like the travelers in the story
Stone Soup uses creativity and ingenuity to ensure a deliciously successful project.
Collaboration & cooperation
Together, we produce a tasty result!
A little carrot makes a big difference
Even small budgets can be stirred into something wonderful.
Everyone eats the soup
Transform a community and everyone benefits.
Fire heats the stone which makes the soup
A creative spark fuels my professional passion.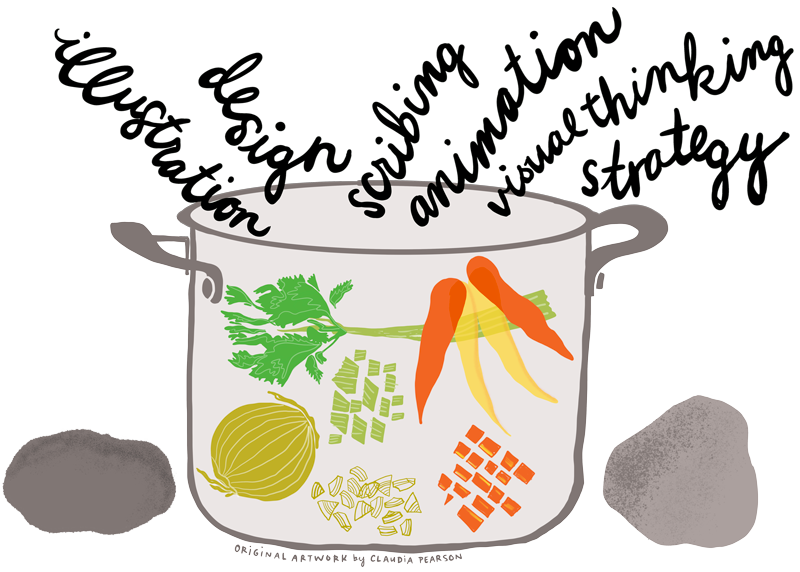 Testimonials
We really appreciated your live visual notetaking. It was a huge value-add to the day, providing content for attendees to keep them engaged in a new way after days of watching people talk.

—Lauren G.
Design Institute for Health
The University of Texas at Austin
The visuals were amazing and really helped us keep our audience engaged in our conversations. I truly appreciate your partnership in helping us bring our stories to life!

—Julie D.
Chief Diversity, Equity and Inclusion Officer & Sr. Vice President of Talent Management
Thank YOU! to Julia who was able to capture body and soul of the day in a way makes me to want to frame every single doodle.



—Eva Marquez
Executive Director, Marketing
Having a real-time visual representation of the thoughts and dreams of our faculty, staff and students as they participated in strategic planning sessions about the College's future brought their ideas to life… and in working with Julia, we were able to capture information in a fun and meaningful way.



—Karen Dyer
Vice President for Advancement
Saint Mary-of-the-Woods College
I invest in Julia's visual recording for important workshops not just for a great deliverable, but mostly because her works drives engagement - she brings an element of creativity and real-time intrigue as participants watch their ideas come to life on her boards.



—Peter Lux
Chief of Staff & VP, Organization + People
Heritage Environmental Services
Julia was a fantastic addition to our conference. She took complex information and distilled it into graphic notes that enhanced learning, provided beautiful visuals, and added an element of fun to the day. Her work played perfectly to our social media strategy of creating Instagram-worthy content to help fulfill our nonprofit's educational mission.



—Erin Anderson
Director of Programs and Advancement
Autoimmune Hepatitis Association
I knew that your presence would make all the difference in the world and it did. Your work activates the imagination and inspires all to unleash their creativity! Your gifts are like alchemy for the brain, heart - and yes guts too 🙂 - You totally adapted, get thrown in to content you never heard and did it masterfully and joined in authentically with the group.



—Ellen Wingard
Transformational leadership consulting for social impact
Inviting Julia ... represented a new strategy to encourage faculty and staff to think creatively about emerging opportunities on our campus.  The creation of a visual record of the workshop is an important way to document what the attendees did.  We can use the visual notes throughout the summer as the attendees progress with their projects, and we can use them when school starts again to demonstrate these ideas and even recruit others to work on these projects.



—Julia M. Williams, PhD
Interim Dean, Cross-Cutting Programs and Emerging Opportunities & Professor of English
Rose-Hulman Institute of Technology
Julia created an amazingly beautiful, warm, creative, thoughtful graphic for a project I worked on. We used the graphic for workshop material and Julia made a poster which served as the backdrop for the entire day. Everyone appreciated the artistry of the graphic but more than that it became a reference point for collaboration and cross sector communication. The end result is that a workshop about collaboration now has a brand that reflects the wonderful character, assets and collaborative spirit of the region.



—Amy Bonn
Founder and Principal
Finch Network
The biggest benefit from working with Julia was having someone with branding/marketing expertise provide me a stepwise framework for thinking through how I want to portray my consulting persona.

The second biggest benefit in working with Julia was the element of trust, both in that I trusted Julia to do high quality work and provide me with the best possible guidance, and in that I trusted her enough to be open and honest throughout the process without worrying that I would be "judged" for what I shared.

I learned a ton, and have a solid roadmap for myself as I dig into revising my website.



—Joyce Lee-Ibarra
Nonprofit Consultant
JLI Consulting
Julia is responsive, thoughtful, and an excellent listener. I felt heard, respected, and like she cared about my outcomes as much as I did.



—Julie O'Day
Owner
O'Day Studios
We first worked with Julia on a single infographic for a presentation in 2012, but that experience was so positive that we have continued going back to her for bigger and bigger projects. All of the work she has done for us is clean, professional, seamlessly integrated into our existing graphic identity, and most of all beautiful. Julia is also an absolute pleasure to work with. I cannot recommend her enough!



—Alison Wade
Chief Administrator
Association of Art Museum Directors
---
---
What creativity can we stir up together?
Let's chat about your next meeting, event, session or project.