Hi! I'm Julia Reich, CEO (Chief Easel Officer) of Stone Soup Creative. I'm a graphic recorder, brand strategist, and graphic designer. I love using visuals and facilitation techniques to help organizations simplify complex messages and ideas, and make important decisions.
Here's some of the ways we can engage:
Graphic Recording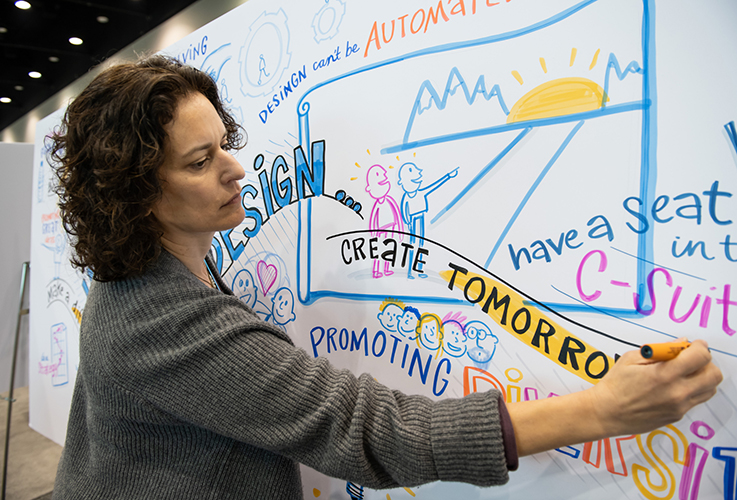 Ever leave a meeting, and by the next Monday you feel like your team's vision and energy are no longer aligned?
Wish there was an inspiring way to document your team's thought journey? 
What if you could capture and summarize a visual representation of a workshop, presentation or event? 
I use my experience as a branding consultant and graphic designer to bring your discussions to life – it's called graphic recording or graphic facilitation (I've also been called a scribe, sketchnoter, live illustrator and corporate artist).
In real time, I capture and synthesize your ideas into a bold, beautiful, hand-drawn graphical record of your session.
Graphic recording is about more than just documentation, unlike taking notes or videos. What I do:
Deepens engagement

Drives shared understanding

Creates connections
Uncovers insights

Strengthens communication
Your team will watch their ideas and conversations come to life, ultimately creating a visual artifact that can be easily seen, understood and shared.
See how businesses, facilitators and organizations use graphic recording   ›
---
Brand Strategy
Is your organization thinking about re-branding? Do you want to:
Take control of your brand
Stand out more in peoples' minds
Gain supporters' trust (and money)
Make your marketing efforts more effective
Or do you run a creative agency that seeks a qualified branding expert and certified facilitator that loves to work with people?
I believe branding can do more than anything else to make an organization stand out in the minds of customers, supporters and stakeholders. The Brand Recipe is my comprehensive methodology to help show an organization's authentic self, to differentiate it from similar organizations and help put its best foot forward. A strong brand also lays the strategic foundation for an organization's marketing materials (website, brochures, messaging), making them more than just nice imagery and functionality.
---
Graphic Design
Need help bringing your brand to life? Julia and her team have over 20 years experience designing impactful and beautiful infographics, annual reports, websites, brand identities, logos, fundraising campaigns, publications and other marketing collateral. I'll listen carefully to your goals and help you create engagement with your audience.
See how I've used graphic design to deploy brands ›
---
One-Day Workshops
The Brand Recipe: The ideal way to get everyone on the same page and launch a successful branding process, with presentations, hands-on activities and discussions. It's an intense, enjoyable, inspirational day designed as a time to get clear on the direction and vision of the brand.
Read about one of my Branding Workshops ›
Visual Thinking Strategies for Change: Visual thinking has the power to move individuals, groups and organizations forward. It is a proven method of clarifying an idea by creating a shared understanding through the use of images. Visual tools and methodologies can be easily woven into the planning for any meeting or workshop where the focus is on efforts to support positive change such as future planning, organizational change and team development. We'll have lots of fun in this session learning and practicing visualizations that can be employed right away at your organization to increase energy and focus, engagement and alignment.
Read about one of my Visual Thinking workshops ›
---
Want to get started?
Let's schedule a quick call
to discuss your next project or event