A Mood board is a tool that can be used during branding to help organizations get a sense of how their brand is evolving.
Mood boards are a collage of:
Colors

Textures

Patterns

Images
I'm a creative person and graphic designer. Even if I'm not working on a project that involves designing visual identity, I'll start to form impressions in my mind from the branding work my clients and I are doing together. I may even get the urge to capture the visual essence of our shared understanding of the brand.
Here's a mood board I created for a client that owns a fitness and wellness studio in Michigan. The branding team had been working to identify these mutually agreed-upon traits:
Integrity

Nurturing

Vitality

Genuine

Warm

Passionate
Based on these adjectives, I wanted her mood board to be bold, but also welcoming. Natural and modern, yet not hippy-dippy. The client observed, "There is a warmth and richness, depth and comfort in it. What a great way to envision the feel of our studio!"
In this case I wasn't hired to design her logo. We were working on brand strategy only, so it was kind of a "bonus" deliverable. I think of it as another language we can use to explore the brand.
---
One of the skills I've developed over the years in creating mood boards and style tiles is the ability to connect design choices with brand perceptions. Or in other words, how to "match" business attributes with creative solutions. I realize it is not always obvious to a non-visual-type person how to do this, so I want to give one more example.
First, here's the mood board I created. You can see how this is reflected in their logo and on their website.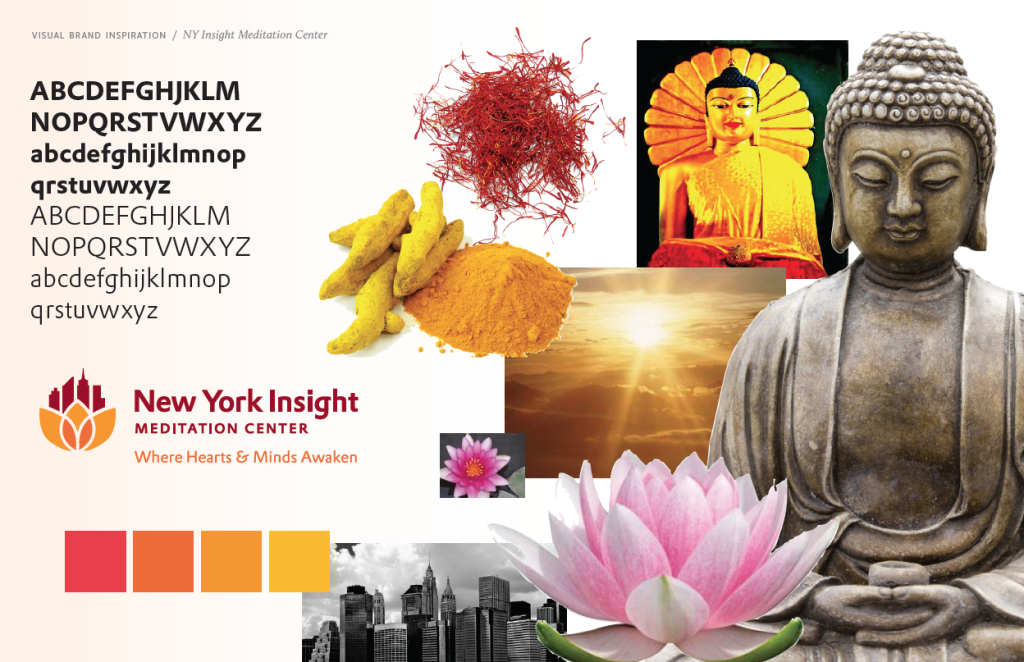 Now, here's a diagram showing my thinking behind how I "converted" New York Insight Meditation Center's brand values and personality into a tone that I could apply to the brand's visual elements.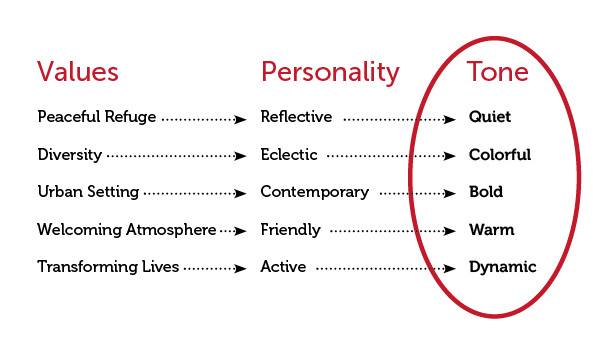 Not every visual element will represent every single brand attribute, but I try to make two or three stand out.
---
Mood boards are a compilation of a visual language that can be used to explore an organization's brand. They're usually presented as a PDF and sent by email, or printed and mounted on foamcore and brought to an in-person meeting.
Color chips, photography, icons, symbols, and typography provide a visual recollection of feelings evoked by the brand that set the stage for later design and marketing efforts.
Want more on Visual Communication and Visual Thinking? Here's some related content for you.
Brand Recipe E-Book
Take charge of your brand and achieve your marketing goals!
Stone Soup Creative will help you:
Take control of your brand
Stand out more in peoples' minds
Gain supporters' trust (and money)
Make your marketing efforts more effective
Download the PDF