A few years ago, a small performing arts organization in California was having an identity crisis. They were asking themselves the question: Who are we – really?!
Background
Pacific Crest Youth Arts Organization was founded in 1993. Back then they didn't want to be known only as a drum and bugle corps, an organization that produced an 11-minute field show with 150 kids who could afford the tuition. They wanted to be more than that, to offer a variety of performing arts education programs for youth.
Their organization structure was fairly traditional. They had four main programs and these programs were supported by operations and fundraising.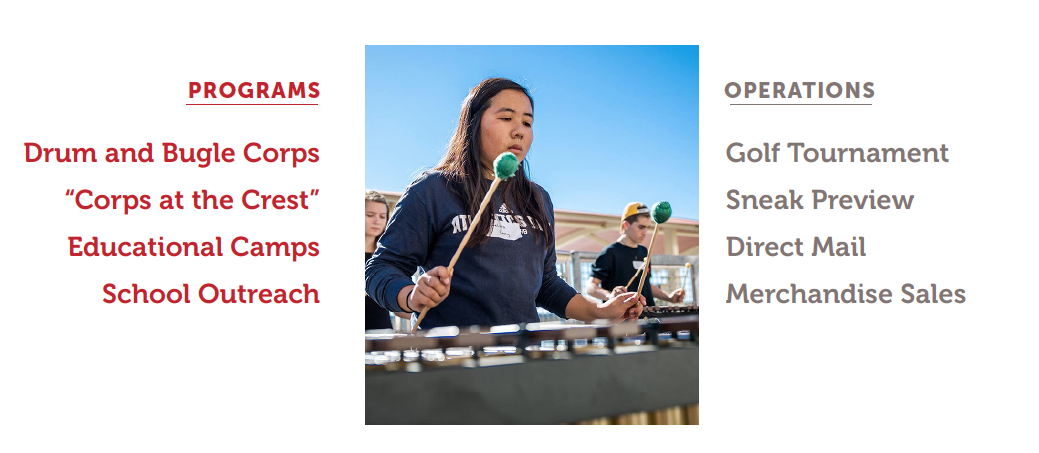 But as time went on, they began to notice that they spent nearly all their time working on the drum corps. And that most people thought of them not as a youth arts organization but as a drum and bugle corps.
We recognized Pacific Crest's lack of clarity as a branding problem, and suggested that for Pacific Crest – and other small nonprofits like them – the benefits to having a strong brand are manifold:
Trust

: We wanted what Pacific Crest was saying they were doing to match what they were actually doing, so that the public's perception of the group was aligned with the organization's actual identity. In other words,

Are they a drum and bugle corps or a youth arts organization? Pick one and embrace it! –

 thereby developing a brand people can trust.

Consistency

: When the brand messages are the same, this also increases trust and visibility. It's difficult to do this with many audiences and stakeholders (current students…alumni…event ticket holders…parents), but not impossible.

Focus

: Stick to the same values, mission and structure over time  – so the organization isn't tempted to be led astray by, for example, partnership and funding opportunities that aren't quite relevant.
Here's the four steps we used to uncover and communicate Pacific Crest's brand:
1. Know Yourself
While this may seem obvious, it's a critical first step.
The thing about a brand is that we all have one – even if you don't know it. The key is to articulate it, to control the message. Otherwise, someone else will. But you can't articulate it unless you know what it is that you want to say about yourself.
---
DO IT: Ask yourself these three questions
Who IS [name of nonprofit]?
What is our character and personality?

What do we actually do here?

What value do we provide our community?
Where is our group headed?
How are we perceived now?

how do we

want

to be perceived?
What is unique about our group?
Who is else is doing what we do?

What are competing for?
---
Pacific Crest engaged stakeholders to help answer these questions, above. Surveying their students is an annual process, but this time they also conducted a series of interviews with their board, staff, parents, donors, and high school band directors whose students had been in their program.
Out of this research, we were able to establish Pacific Crest's five main brand attributes:
Camaraderie

Education

Leadership

Performing arts

Fun!
2. Know your business model
We also determined that Pacific Crest is – indeed – a drum and bugle corps. The drum corps was not one of many programs, but rather the program. While there are other activities Pacific Crest engages in, these are all in service to the drum corps. That's how everyone saw them, and it was clearly where they spent most of their time.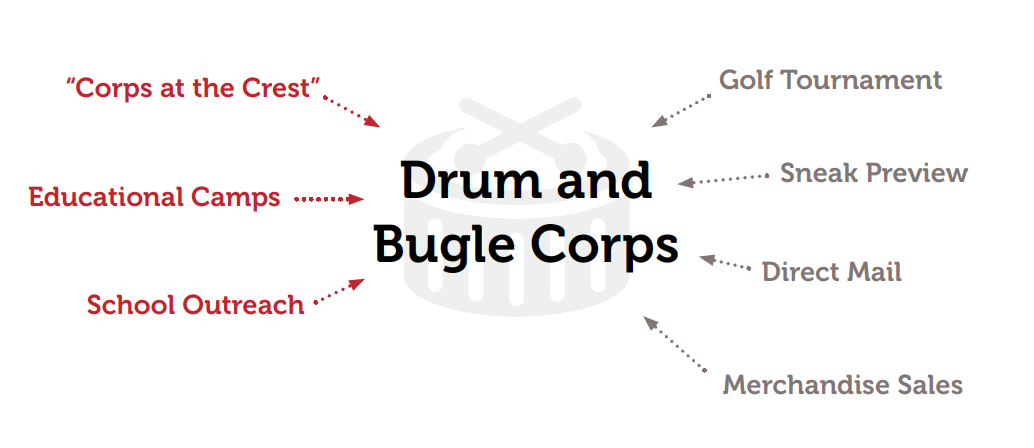 ---
DO IT: What well-established brands do you aspire to, and what is their structure?
Pacific Crest considered these two similar examples:
The LA Philharmonic is a symphony orchestra. Their outreach programs and concert lectures are in service to the work of the

symphony

In the sports world, the Angels may provide free tickets to their games to underserved kids, or provide clinics to little league players, but they are a

baseball team
---
Given this new perspective, Pacific Crest changed their structure to better reflect their brand and their business model. The drum corps is now their central focus. It is the core program, and all other business lines add value to that program. In fact, were it not for the drum corps, Pacific Crest would not have reason to do any of these other things.
3. Create brand messages
Once we helped Pacific Crest navigate through this discovery, we were able to clearly articulate their three main brand messages:
Brand Message #1


Pacific Crest challenges committed young performers in a superior quality performance ensemble with similarly motivated peers

Brand Message #2


Pacific Crest develops the technical and artistic performance skills of our students through a highly intricate blend of music and movement that's performed for live audiences around the country.

Brand Message #3
Pacific Crest changes students' lives through a rigorous rehearsal schedule, mentoring, and a summer performance tour that builds character and develops maturity and leadership.
 4. Get the word out
Like a lot of nonprofits with limited resources, Pacific Crest relies heavily on both its volunteer workforce and technology to spread the message about who they are and what they do.
In this example, a volunteer at the organization created a simple Facebook campaign to communicate their brand messages.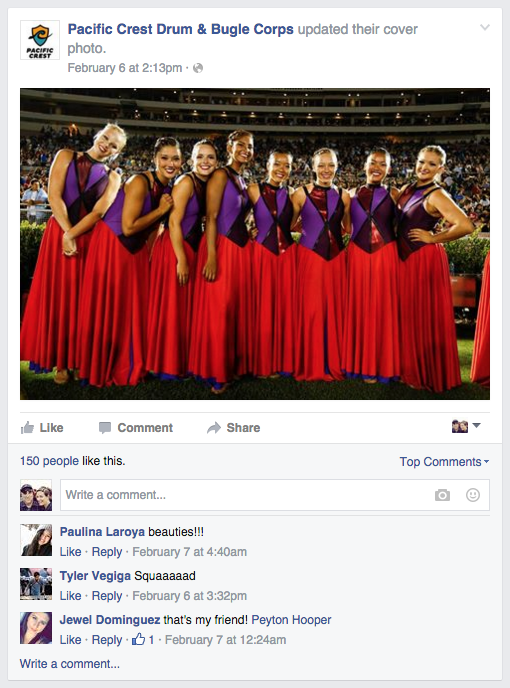 The above post focuses on a group of similarly motivated peers, from Brand Message #1, above. It also demonstrates camaraderie (a core Brand Attribute), the feeling of Pacific Crest as a second family. In this photo you can't deny how much these young women are enjoying themselves after a performance.
There were several similar posts. While it may appear that Pacific Crest is putting random photos to its Facebook page, each one helps subtly communicate the brand messages.
The Bottom Line
A small nonprofit's very sustainability depends on knowing its brand. Here's an insightful formula developed by Pacific Crest's Executive Director:
Using the above four steps, Pacific Crest has been able to define its authentic brand and use it successfully to:
Build a fiercely loyal audience of supporters

Be represented across several channels

Engage diverse audiences such as youth, parents, alumni, and event customers
---
Want to learn more about Pacific Crest?
Want more on Visual Communication and Visual Thinking? Here's some related content for you.
Brand Values Worksheet
Your network should experience the organization's brand and infer from it that the organization has the character and values that it actually has. Then people can connect emotionally, which in turn builds trust and loyalty in your organization.
Download the PDF