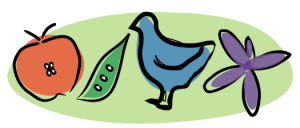 I love to cook. And I love to eat. And because it's important to me to know where my food comes from, I love to shop for food – especially at farmer's markets or roadside stands (where I live in central NY state, many of my neighbors sell their homegrown produce, fruit, maple syrup, honey, or eggs along the side of the road. My favorite secret spot, a fleeting culinary treasure, is the orchard that sells – for maybe only 2 weeks out of the whole summer – apricots. Imagine – sweet, dripping, fresh apricots! On the east coast!). A former NYC-based vegetarian, for nearly 15 years I was a member of a CSA where I picked up my weekly share of veggies from an upstate farm.
About six years ago my husband and I moved to a rural area in the center of the state – the Finger Lakes, not only a beautiful region, but also a culinary hot spot and dripping with wineries. Sure, it was a enormous transition, but I relished the thought of living closer to the farms and markets that are the source of my food. And for the first time in my adult life I started to eat meat – once I got to know which farms were raising livestock using sustainable, humane practices.
Food produced sustainably, it seems to me, is one of life's primary elements. It all starts there. It is the basis of the health of the environment, my personal health, and for my family who eat the food I cook. Everything flows from health: physical energy, mental acuity, emotional balance.
That's why, when I opened my creative studio in 2001, those organizations in the farming, nutrition, education, and other food advocacy sectors – along with culinary or food-based businesses –  became my favorite clients to work with. I have a lot of admiration for the amazing work these groups are doing to change the way we eat.
Like FoodCorps, who are addressing childhood obesity by increasing children's knowledge of, engagement with, and access to healthy food. (click here to see a case study of our work with FoodCorps)
Like School Food FOCUS, who assists many of the nation's largest school districts in wielding their high-volume purchasing power to make more healthful, regionally sourced, sustainably-produced school food available to kids – thereby supporting studentachievement and health while benefiting farmers, regional economies, and the environment. (click here to see a case study of our work with School Food FOCUS)
Like GrowNYC, who produce the fabulous Greenmarkets throughout NYC (noshing my way through the Union Square Greenmarket is one of my all-time favorite pastimes) as well as a whole host of other environmental education, gardening and recycling initiatives. (click here – and here too! – to see case studies of our work with GrowNYC)
…
Our foodie client list isn't just limited to nonprofits. We're pleased as punch to work with local food advocates in the for-profit sector, too – caterers, wineries, milk & yogurt processors, restaurants, stores, consultants and more –  such as Cater to You, King Ferry Winery,Hawthorne Valley Farm, and Elmhurst Dairy.
At Stone Soup Creative (formerly Julia Reich Design), my expert creative team and I continue to be dedicated enthusiasts to supporting great food-based missions with creative, thoughtful, and effective marketing and design.