Creative agency brings 'magic stone' to South-Central Indiana
MARCH 26, 2014
TERRE HAUTE, IN
Award-winning graphic design agency Stone Soup Creative brings their unique flavor of design, branding and marketing experience to South-Central Indiana.
Stone Soup Creative opened its doors in New York City in 2000—and under the guidance of firm principal, Julia Reich—has grown its expertise in brand strategy, print design, web design, and marketing, while also building their roster of clientele, which includes nonprofit organizations, foundations and educational institutions.
Now happily at home in Terre Haute (since late 2013), the move from the Empire State to the Hoosier State was precipitated when Reich's husband accepted a position at ISU as the Chairperson of the Department of Art and Design.
Stone Soup Creative derives its evocative name from the childhood fable. Told in many versions, it's a story of creativity, ingenuity and teamwork creating something from nothing:
Hungry travelers arrive in a village. Food is scarce, and the villagers are unwilling to share what they have. The ingenious travelers begin a pot of soup by placing a 'magic stone' in boiling water. Curious villagers stop by, each sharing an ingredient to add to this stone soup. Ultimately, a delicious, nourishing pot of soup feeds everyone.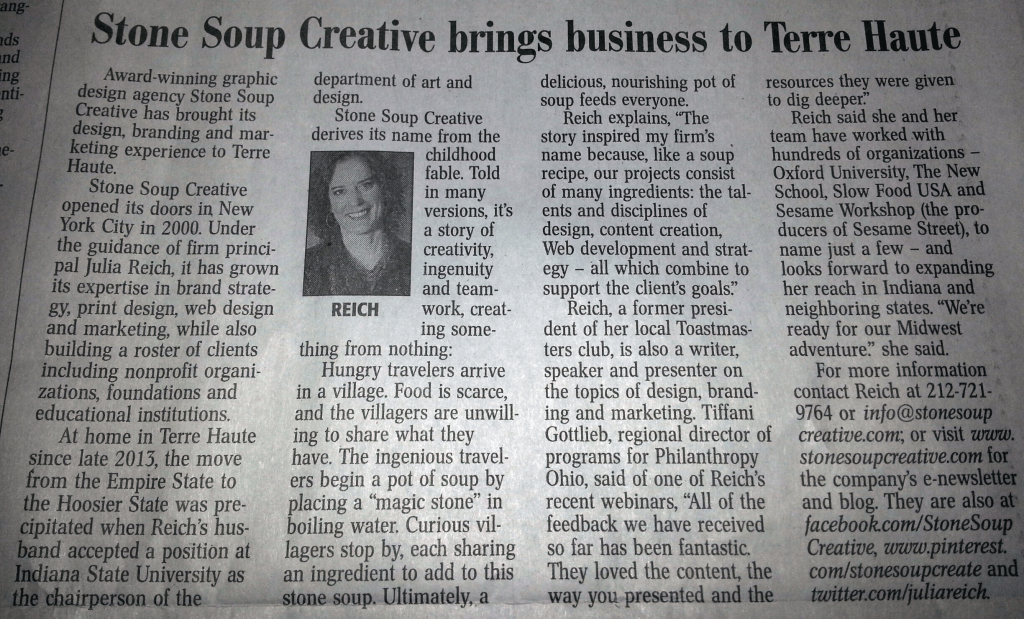 Agency principal Julia Reich explains, "The story inspired my firm's name because, like a soup recipe, our projects consist of many ingredients: the talents and disciplines of design, content creation, web development, and strategy – all which combine to support the client's goals."
Reich – a former President of her local Toastmasters club – is also a writer, speaker and presenter on the topics of design, branding and marketing. Tiffani Gottlieb, Regional Director of Programs for Philanthropy Ohio said of one of Reich's recent webinars, "All of the feedback we have received so far has been fantastic. They loved the content, the way you presented and the resources they were given to dig deeper."
Reich says she and her team have worked with hundreds of organizations – Oxford University, The New School, Slow Food USA, and Sesame Workshop (the producers of Sesame Street) to name just a few – and looks forward to expanding her reach in Indiana and neighboring states. "We're ready for our Midwest adventure!" she says.
….
Stone Soup Creative is an Indiana-based creative agency specializing in design, branding and marketing for nonprofits, foundations and educational institutions. Organizations across the country have seen huge improvements to their brands' print and online communications as a result of Stone Soup Creative's expertise.
For more information, contact Julia Reich at 212.721.9764 or info@stonesoupcreative.com
Follow Stone Soup Creative on Facebook at https://www.facebook.com/StoneSoupCreative
Pinterest at https://www.pinterest.com/stonesoupcreate
and follow Julia on Twitter @juliareich
For the latest news and tips, sign up for Stone Soup Creative's e-newsletter at
https://www.stonesoupcreative.com or follow their blog at https://www.stonesoupcreative.com/thinking/blog