It's the week after the Super Bowl and the internets have been slathered in commentary about Puppy Bowl X and Budweiser's cute new Puppy Love commercial. Since I love my dogs (and all my animals!) so much – and I'm a sucker for the groups fighting for their welfare – this month's topic is easy: Examples of unique, international campaigns—inspired by puppy-love.
Even if animal activism is not your thing, check out these three unique campaigns. All of them display ingenuity – the first through clever storytelling, the second via strong visual branding, and the third through innovative mobile fundraising technology.
CLEVER STORYTELLING
Campaign #1: Guide Dogs NSW/ACT*
Put a puppy on it and you're guaranteed eyeballs. Well, you are if it's a series of humorous short videos – interviews with real people, not actors – that describe perfectly how tough the role of a Guide Dog is: working for no pay "except love," no time off, and a 10-year training regimen.
Watch this compilation video, created for the group Guide Dogs NSW/ACT* – a provider of orientation and mobility services to the blind and vision impaired living in Australia – to see how the interviewees reacted.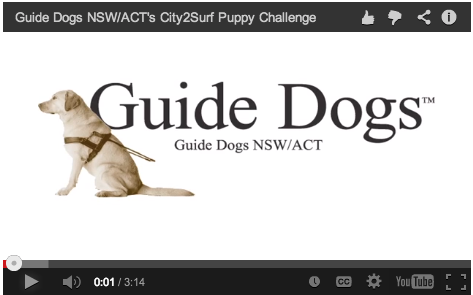 (*NSW = New South Wales and ACT = Australian Capital Territory. I had to look it because I'm geographically impaired.)
STRONG VISUAL BRANDING
Campaign #2: Friends of Animals
Friends of Animals is an action-oriented animal advocacy organization. Their new brand features a logo that literally "strikes out" human practices that harm animals.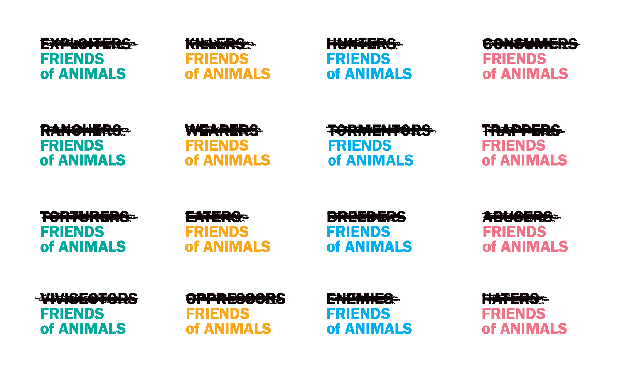 The impactful mark uses various terms related to the torture, killing, and abuse of animals – words such as 'tormentors', 'exploiters', 'breeders', and 'trainers' (some of which could be considered controversial) preceding the words "of animals." The result is "a design language of gestural scrawls, cross-outs, and underlines," explains the design firm MSLK, who created the new identity. It is flexible depending on context. Friends of Animals appreciates that "as new issues arise, we can adapt."
This short video explains the rationale behind the new identity.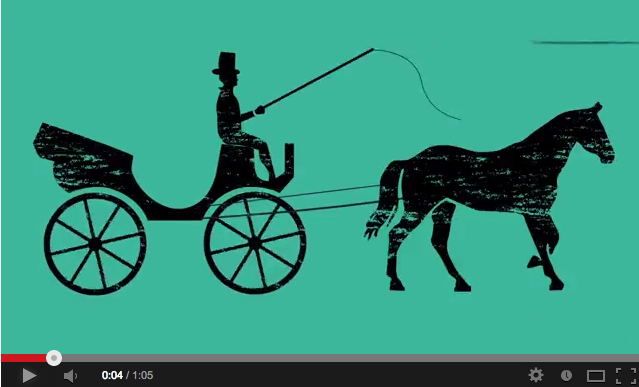 Their campaign objective was to clarify what they stand for, increase their visibility and connect with younger generations. Friends of Animals also see the new identity as an awareness-raising campaign – an opportunity to engage with people on animal advocacy issues.
INNOVATIVE MOBILE FUNDRAISING
Campaign #3: Battersea Dogs & Cats Home 
My final exhibit is from Battersea Dogs & Cats Home, a UK-based charity successfully utilizing innovative technology to recruit new donors through door-to-door fundraising – and increase retention of these donors.
Battersea Dogs & Cats Home began going door-to-door in 2010 with an iPad app used in combination with mobile validation technology to create a "seamless, fast, accurate and secure donor acquisition service," as reported by the website SOFII (Showcase of Fundraising Inspiration and Innovation).
The mobile-driven process starts with a face-to-face conversation with individuals. A short video is displayed on the tablet, "giving the fundraisers a way of providing people with an immediate and compelling connection to the charity's work and increasing engagement." Once a donor has made the decision to give, their financial details are captured with a custom-built iPad processing system. Battersea follows up right away with each supporter, using "a warm welcome email that is sent to the donor at the moment of sign up through the iPad, with the objective of maintaining the energy and positivity of the experience they have had with the fundraiser."
The results speak volumes: since launching this new system, not only have the Home's fundraisers tripled the giver list, there has been a decrease in discontinued payments – all of which means a significant increase in funding to help care for the homeless dogs and cats of Battersea.
…
When you go big and bold—it will intrigue people and capture attention! This makes your audience far more likely to get involved. But remember, while it's great to be unique, don't go too far outside the box. Certain fundraising approaches are common for a reason—they work! Substance, clarity and effectiveness should always be your top priorities:
"Do not fall into this trap: triumph of style over substance, clever over effective, concept over clarity."
— Future Fundraising Now
To use what works, while making your effort unique and impactful, Stone Soup Creative can help.
Sources:
https://osocio.org/message/the_guide_dog_interviews/
https://www.guidedogs.com.au/ 
https://mslk.com/project/friends-of-animals/
https://friendsofanimals.org/news/2013/november/who-we-are
https://www.sofii.org/node/1441