The Genesis
A couple of years ago, with my 50th birthday approaching, I wanted to plan an epic trip to somewhere really good: Alaska. And I wanted to ride my mountain bike. After all, my shared bucket list item with my husband is to ride a mountain bike in all fifty states, and this would give us a chance to check off a bunch of 'em, if we drove there and back from our home in Indiana.
This year gave us that opportunity. William – who is a university professor – had a sabbatical. We decided to travel and ride bikes and write and work. We would bring the two dogs, Rory and Violet, because I am a zealous dog mama and can't leave them behind.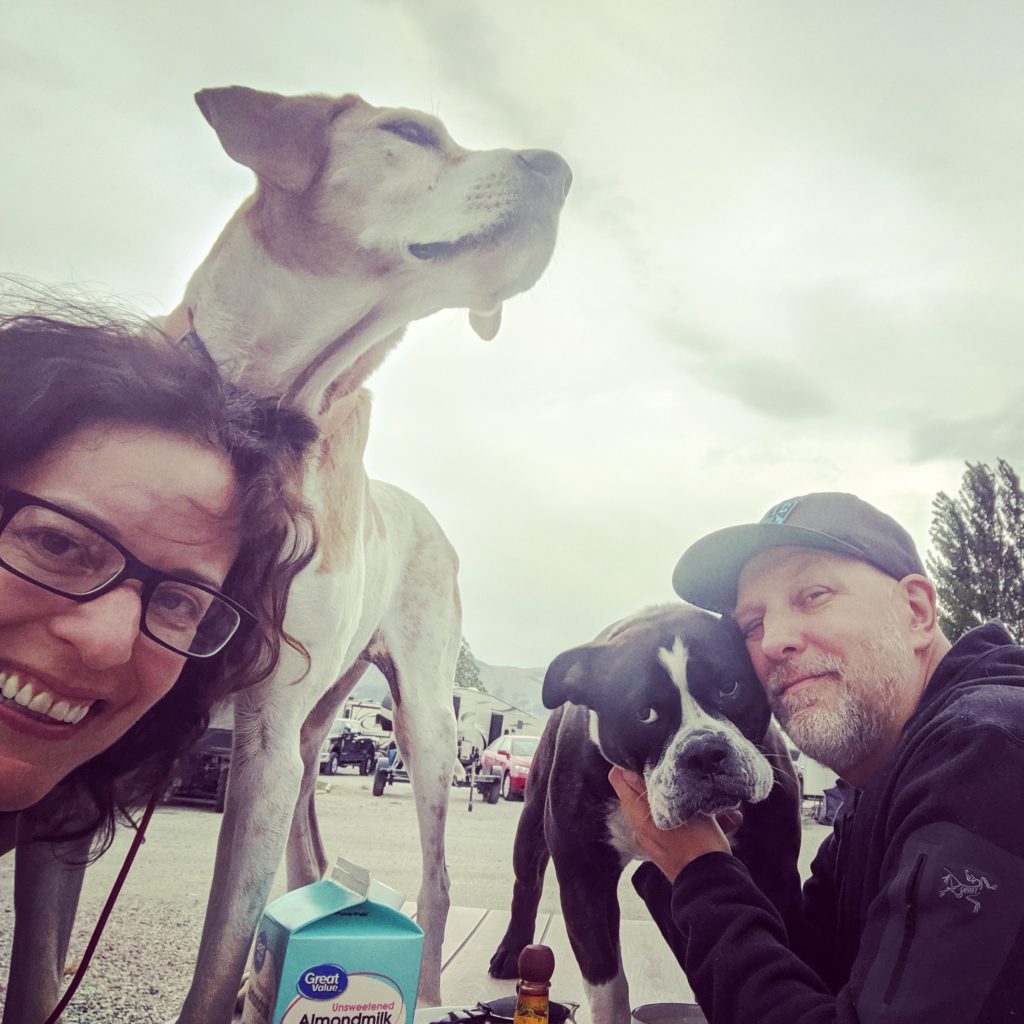 With absolutely no previous RV camping experience, we bought a used Casita, a small fiberglass 17-foot travel trailer that was light enough to tow behind our SUV, a Toyota FJ Cruiser. It had everything we needed – a small but roomy fridge, small sink, small stove, small bathroom with shower, small microwave, and best of all – seats and a table that converted to a king-size bed.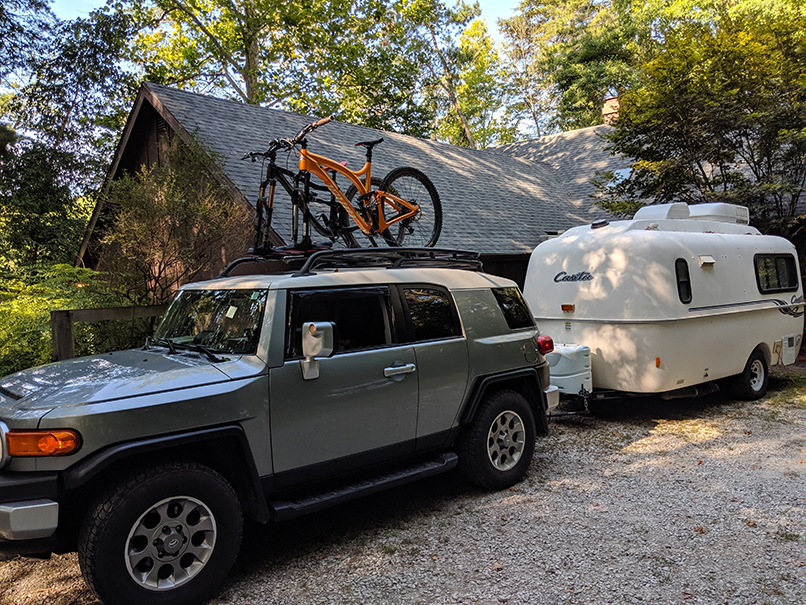 You know how when you were a kid you would build a fort out of pillows and blankets? It's like the world's best grown-up fort. I loved it. So what if there was very little storage space, and as two very tall people we kept bumping our heads on everything?
It's like the world's best grown-up fort.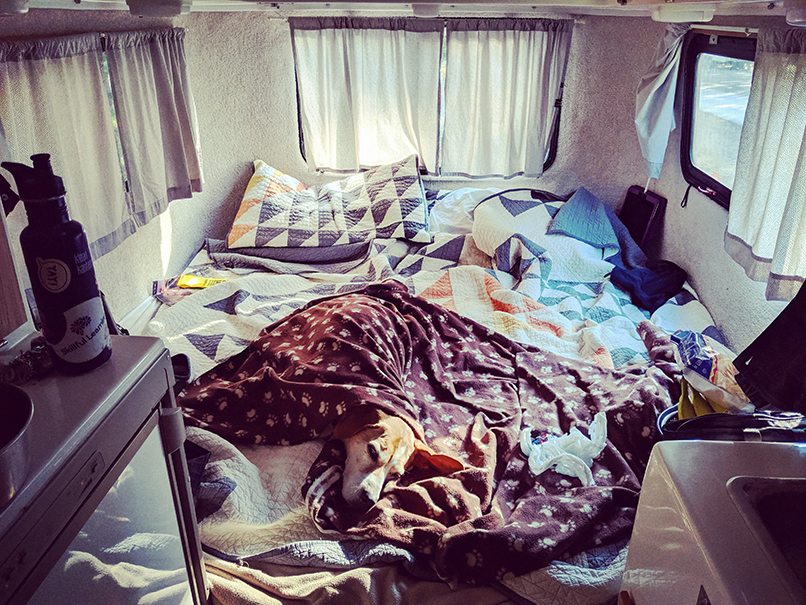 It was hard for me to wrap my head around leaving home for two months. I love to travel but I am also a home body. And what about work? How could I just… stop working? I panicked and thought about trying to secure graphic recording gigs along our travel route. But I talked to a few colleagues who disavowed me of that idea, reminding me that life on the road would be about "surviving day to day" – and, wise friends, they were right. I did have a few projects in progress that I intended to finalize while traveling, so I notified my clients of my plans (and in the end, thanking them effusively for their patience with my inefficient workflow) and packed up essential electronic devices.
It was hard for me to wrap my head around leaving home for two months. I love to travel but I am also a home body. And what about work? How could I just… stop working?
The Adventure Begins
We left our home and seven cats behind with a pet-sitter friend on August 9, 2019 with plans to return in two months on October 9, 2019. We headed northwest to escape the heat and humidity, but other than that we had no itinerary. We didn't even know where our first stop would be. The day before we left I found a campground in northwest Illinois but that was the beginning and end of any advanced planning.
This would be a task we would repeat many times on our trip – scouting our next destination to land the Casita and unhitch for a few days. We tried to find locations with mountain bike trails – if we found that, it was a bonus, since we could ride right out of the campground without having to drive to a trailhead.
We realized early on that staying just one night in any location was too much work to unhitch the Casita and then hitch it back up the next day. We tried to stay at least two or three nights at any one place.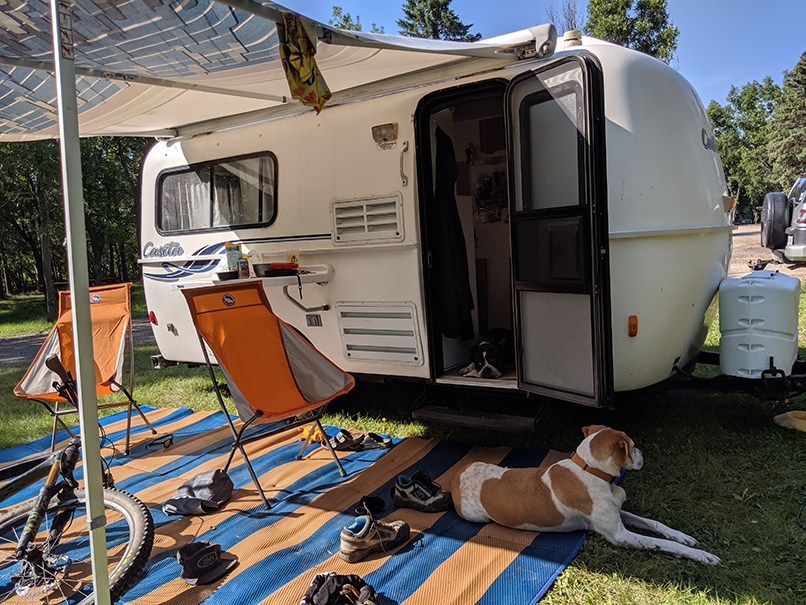 We also discovered we preferred boondocking  – primitive camping without any amenities such as water or electrical hookups in remote locations, such as National Forests – to RV campgrounds and resorts, which provided hookups, showers and laundry facilities, but they typically crowded the RVs in like sardines. We could boondock for three nights max before we had to visit a place with hookups to re-charge the Casita battery (as we did not have a generator, spare battery or a solar array like some RVers).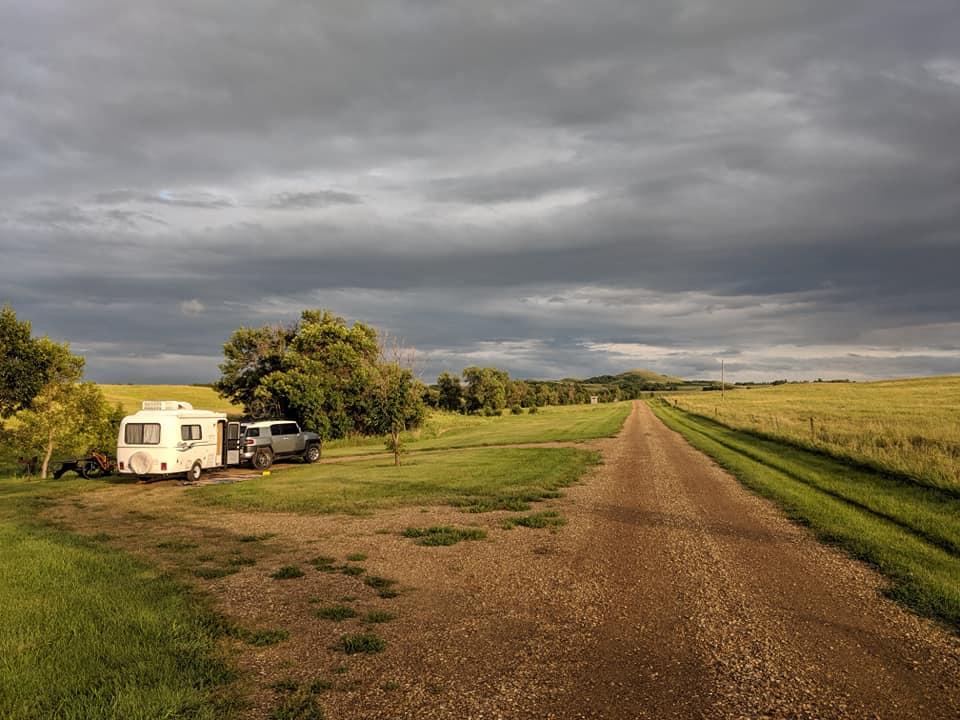 Additionally, it was stressful to have to keep the usually free-range doggos tethered and leashed at all times in crowded campgrounds. We looked forward to weekdays after the kids went back to school in September because it became easier to find available campsites in choice locations with less people.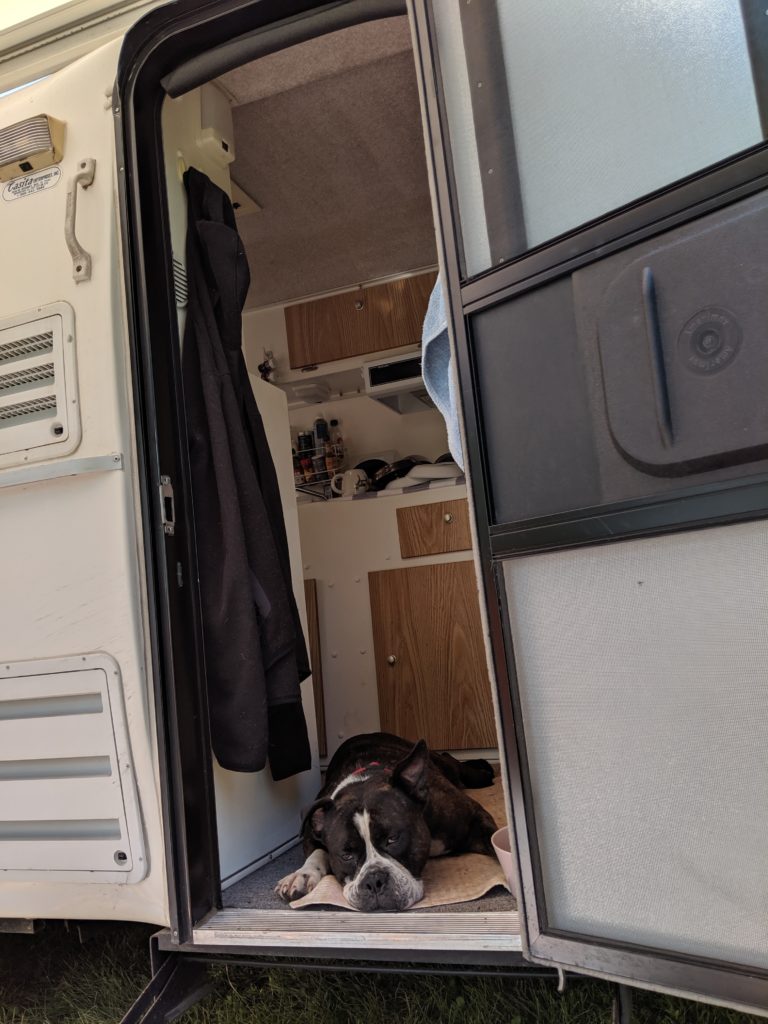 We also signed up for Harvest Hosts, a "membership network that invites
self-contained RVers to stay overnight for free" at privately-owned farms, breweries, wineries and other locations with the owner's permission – in an unspoken exchange for purchases at their business. We had a few Harvest Host stays throughout our trip – including a winery in Montana, a cidery in Kelowna, Canada, and an urban farm/RV Park, also in Kelowna. We would recommend this service to other RVers.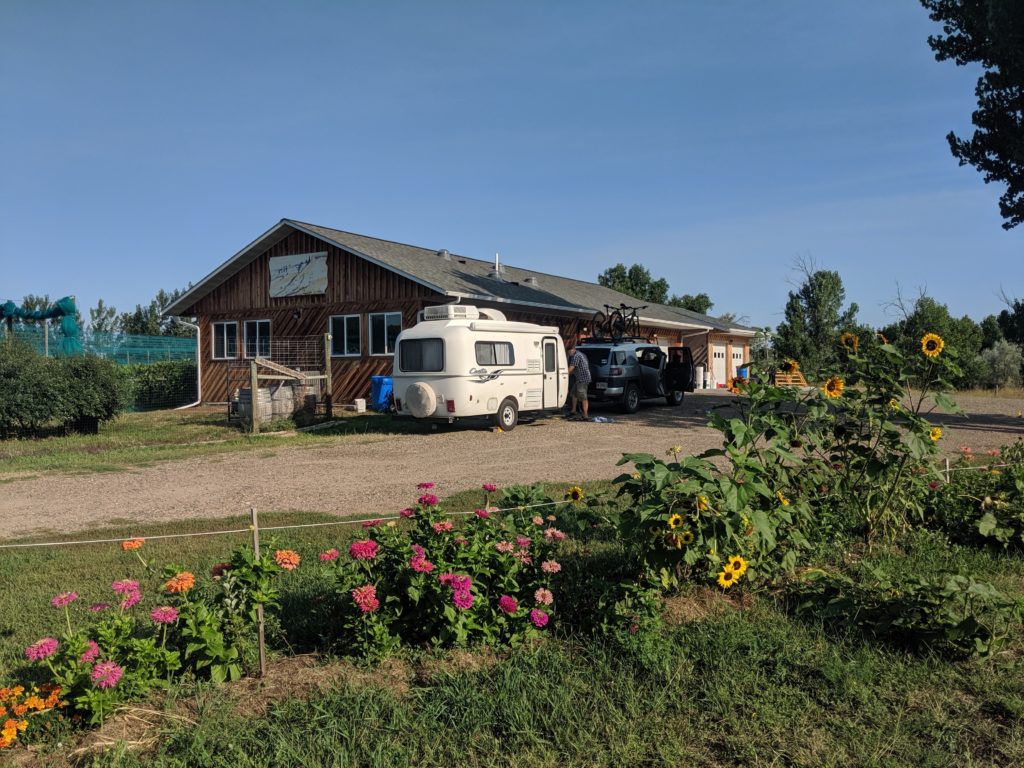 August: Challenges on the Road
(Illinois, Wisconsin, Minnesota, North Dakota, Montana, Fernie)
We had only used the Casita twice before heading out on this trip so you could say we were total novices, and a lot of things went wrong in those first two weeks:
– two tires blown out on the Casita in three days (subsequently we purchased higher quality tires, never exceeded 60 mph or towed a tank full of water, and made sure to dump black and gray water after every stay in order to reduce towing weight)
– tongue jack broke
– wore out the pigtail
– replaced a broken heat shield on the FJ Cruiser
– discovered the Casita battery was dead

…all in addition to typical mountain bike mechanical issues and trailside repairs.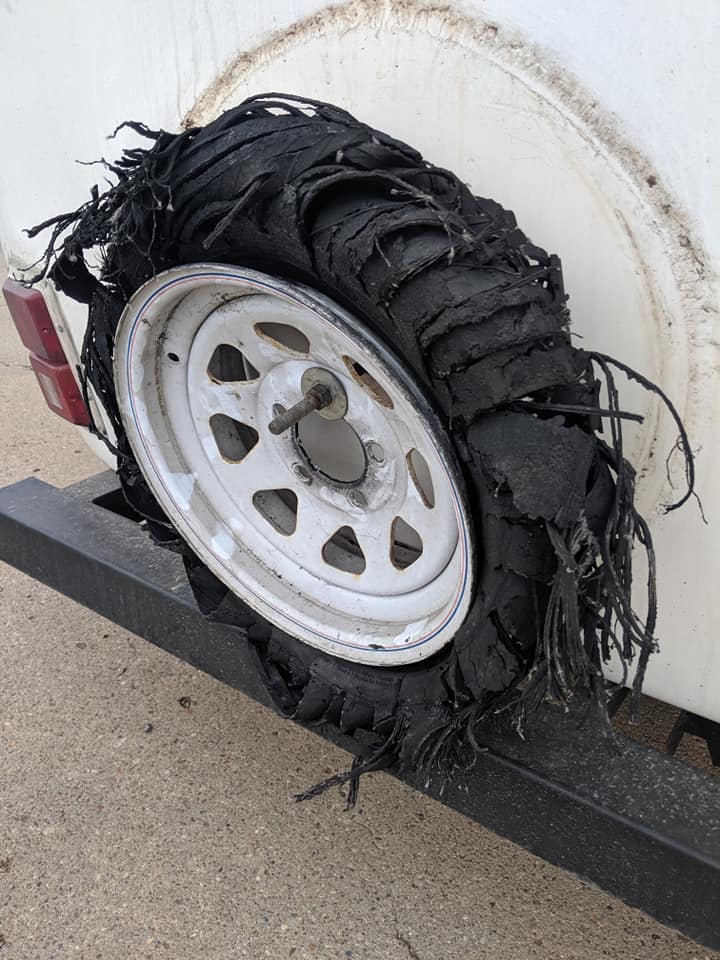 These stressful mishaps resulted in too many emergency visits to Walmarts and RV places, so it was at this point that we made a important decision which dramatically impacted the rest of our trip. We decided to stay in the lower 48 and Canada and not drive to Alaska.
I was heartbroken to not realize a bucket list destination, but we had heard that the road to Alaska is long, with scant services and amenities. We were stressed out and didn't want to imagine having another breakdown on a remote stretch. And there were many adventures in amazingly beautiful places ahead of us – I didn't pine for Alaska for long.
Our stop in Minnesota yielded one of the most fun trail systems William and I had ever ridden, and would ride on the entire trip: Cuyuna Lakes. Masterful trail-building with miles of flow, plus enough technical trails to keep it interesting. To anyone who loves mountain biking: go there! It's appropriate for riders of all abilities. And you can stay in a yurt if camping's not your thing.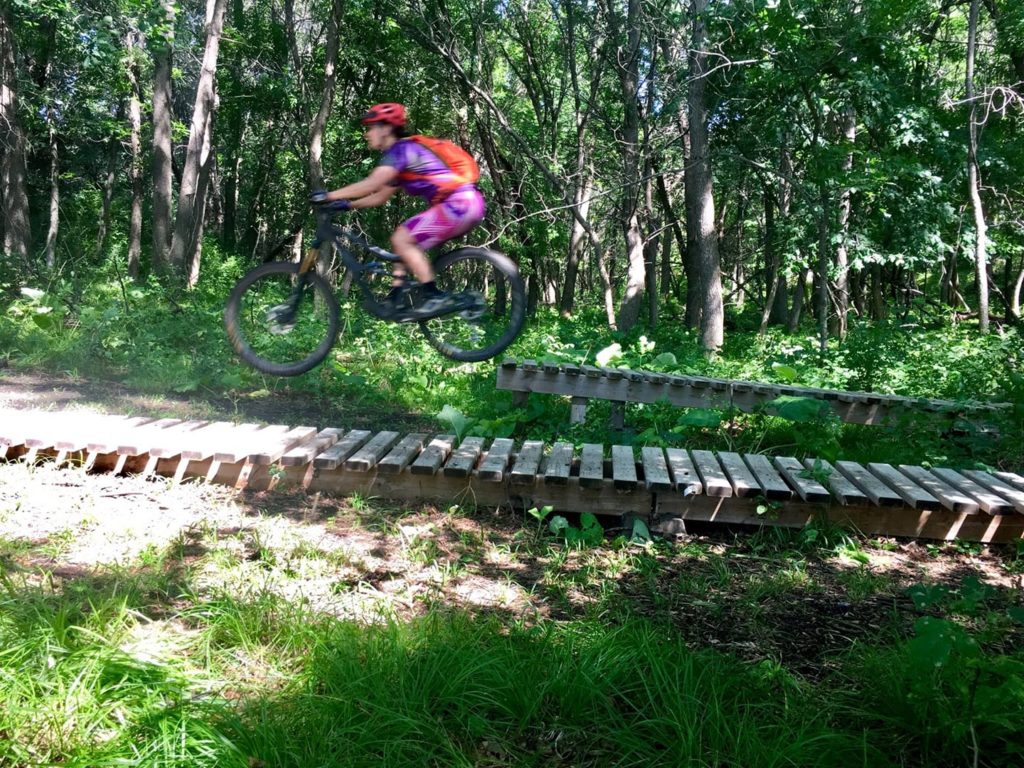 Moving on to riding in Montana, I came to recognize that trails marked green (easy) meant: ride straight up a mountain on smooth dirt. Trails marked blue (intermediate) meant: go straight up a mountain but with rocks and roots.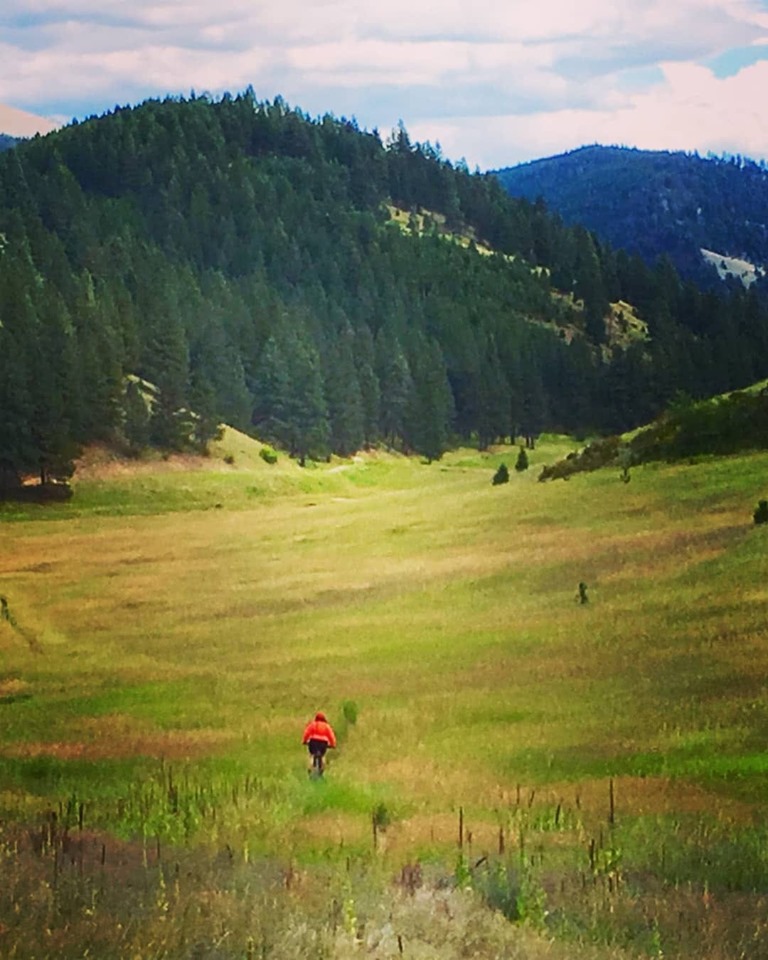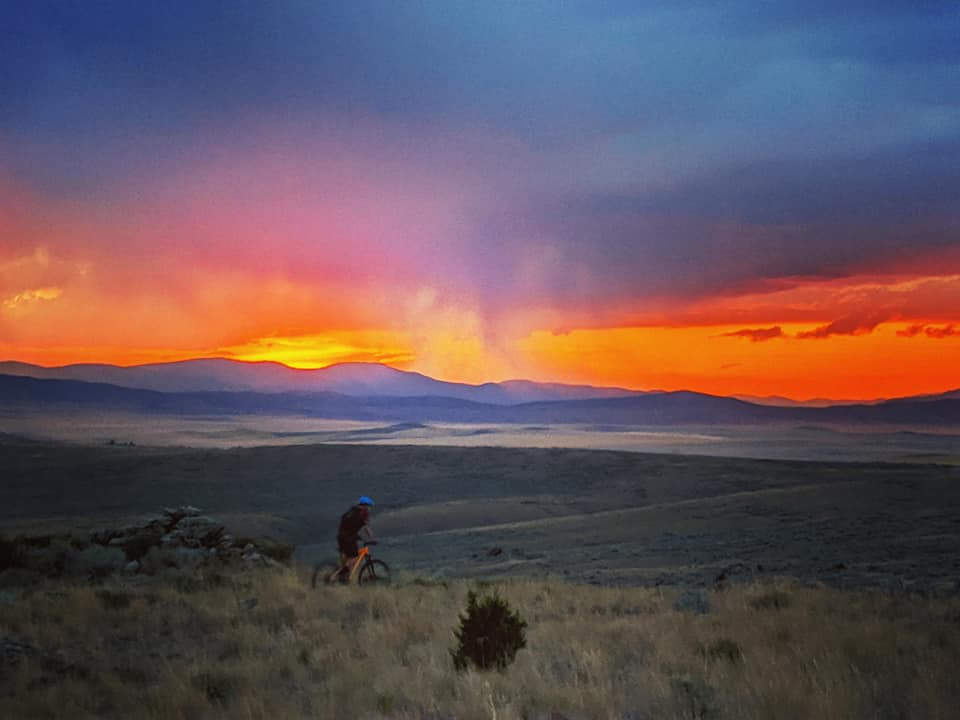 Although we intentionally skipped more popular mountain destinations such as Utah and Colorado, knowing we would likely return one day, and national parks – they were too crowded and not very dog-friendly – we did opt to drive the Going to the Sun Road in Glacier National Park. Incredible mountainous views and breathtaking valley vistas made it well worth a day in the car.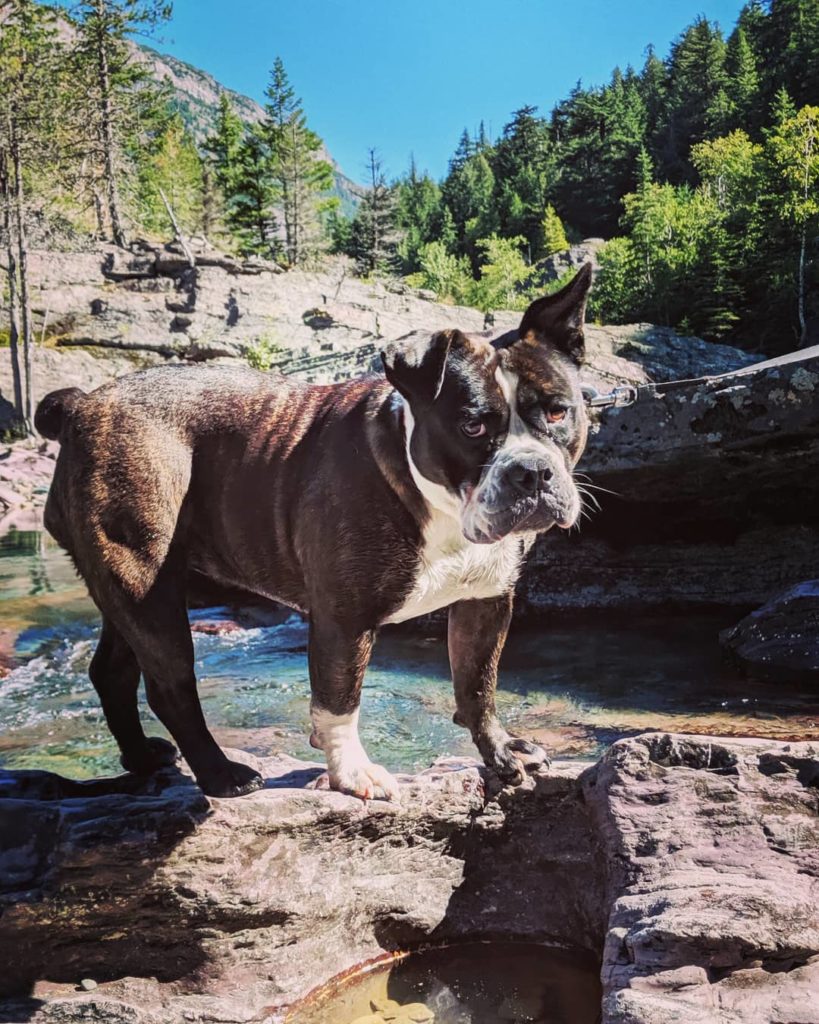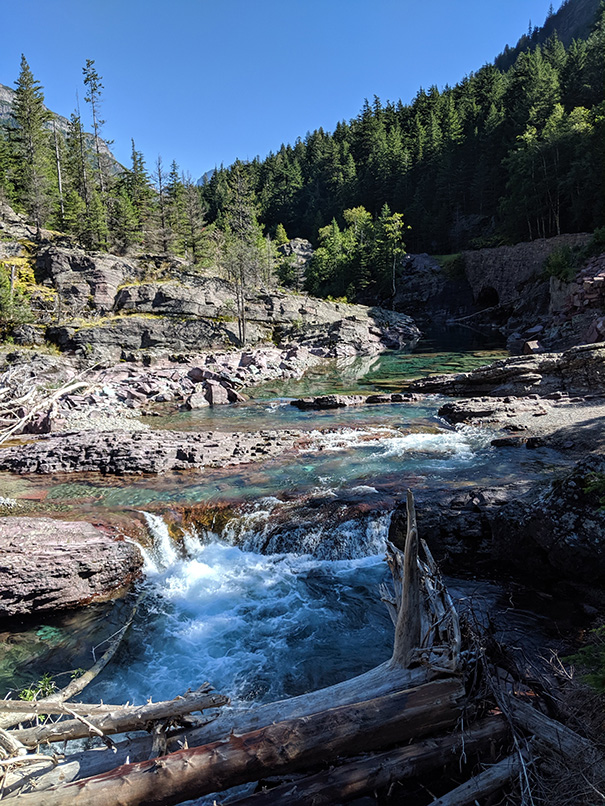 Unfortunately dogs are not allowed on any national park trails and leaving them behind in the campground was not an option, so like many Glacier visitors, this was the only part of the park we saw. But it was glorious.
We met a Canadian couple in Whitefish, MT who, once they found out we were mountain bikers, recommended Fernie, just a couple of hours drive north. We had never heard of it but thought, why not? So we crossed the border without incident and headed there, which turned out to be a famous mountain bike and ski mecca.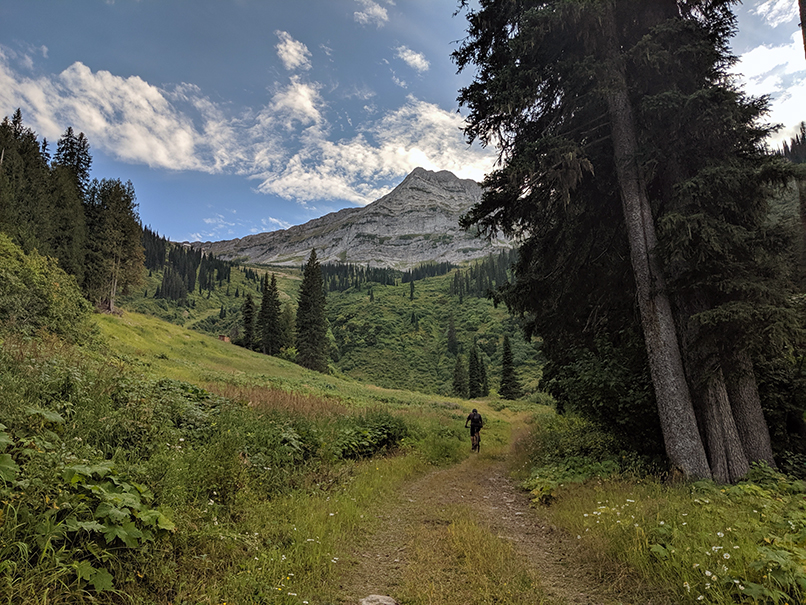 The small town was full of people on mountain bikes and chock full of bike and gear shops, with proximity to the immense Rocky Mountains, criss-crossed with trails, all of them incredibly challenging, endless climbs leading to exhilarating downhill plummets. Our campground had numerous trailheads. We loved Fernie and vowed to return in winter for a future nordic skiing adventure.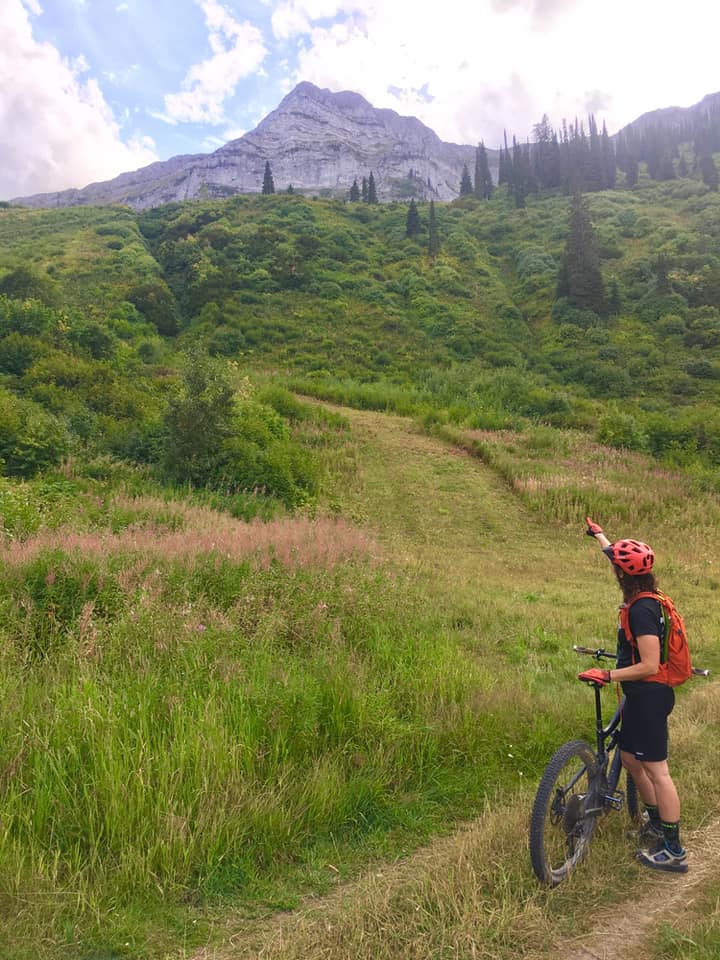 September: Getting into the Travel Rhythm
(Banff NP, Jasper NP, Kamloops, Kelowna, Washington, Oregon)
Our time on the road began to take on a familiar rhythm. Travel days, driving in the FJ with dogs in tow. Find a place to camp for a few days, go into town, find a bike shop and get the lowdown on the best trails, ride and explore. Hitch the Casita and move on. Try to locate hot showers every few days. Once a week or so, find a town and do laundry and go food shopping. Duck into a library or coffee shop with WIFI  and outlets to charge electronic devices when clients needed to be communicated with and files sent.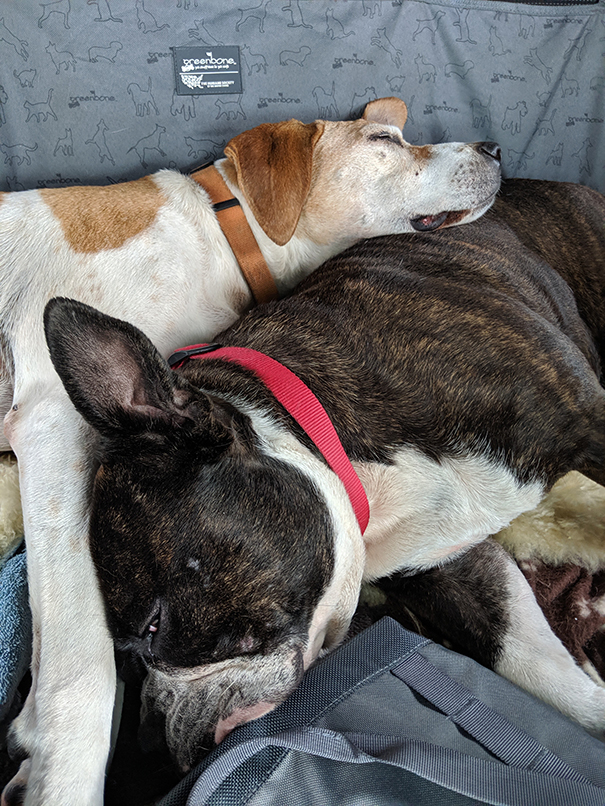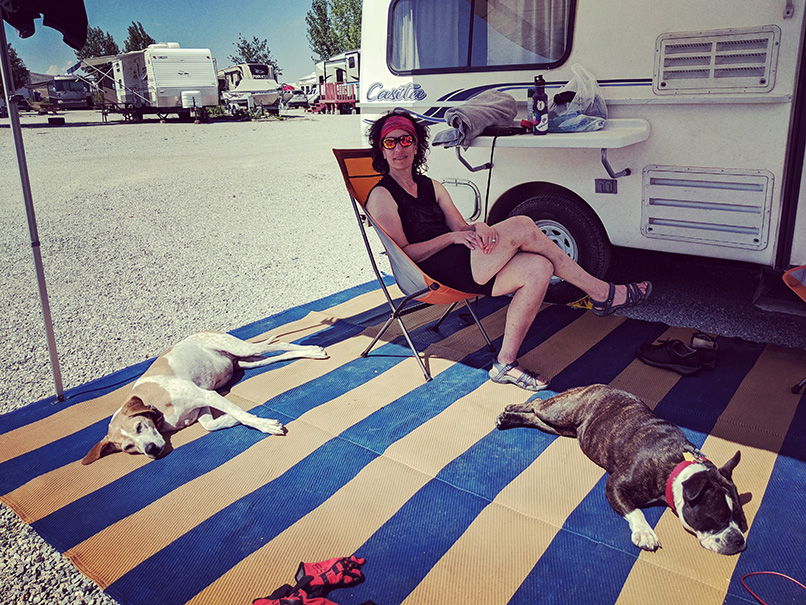 Heading into Banff National Park, the Canadian Rockies yielded glacial runoff rivers a color of blue I had never before witnessed in nature, and scenic mountain views that blew my mind at every turn.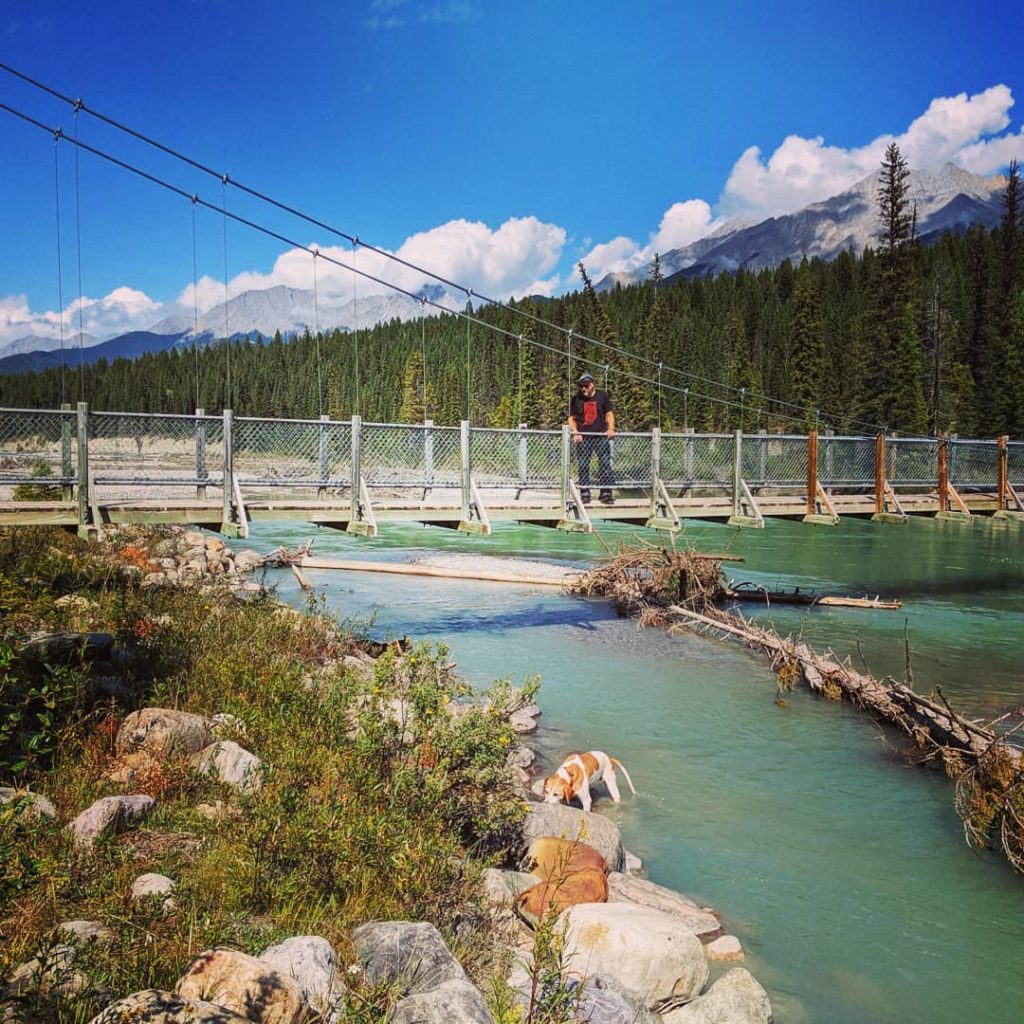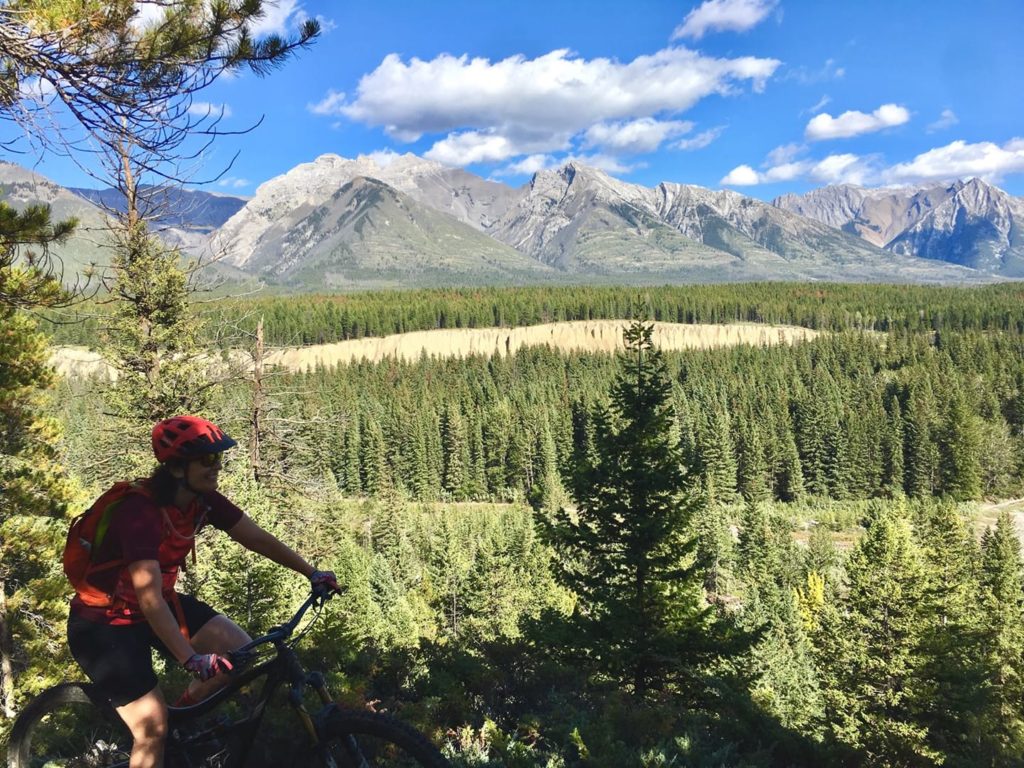 From Banff we learned of Jasper National Park, and folks: I am here to tell you that if you love the outdoors, YOU MUST TRAVEL THE ICEFIELD PARKWAY FROM BANFF TO JASPER. Aside from knowing about Banff since attending the awesomely wonderful and inspiring Banff Mountain Film Festival each year, I am incredulous that I had never previously heard of Jasper and the road leading there, which believe it or not – if you can even imagine the possibility – is even more beautiful than the one in Glacier. I could spend an entire lifetime exploring this place.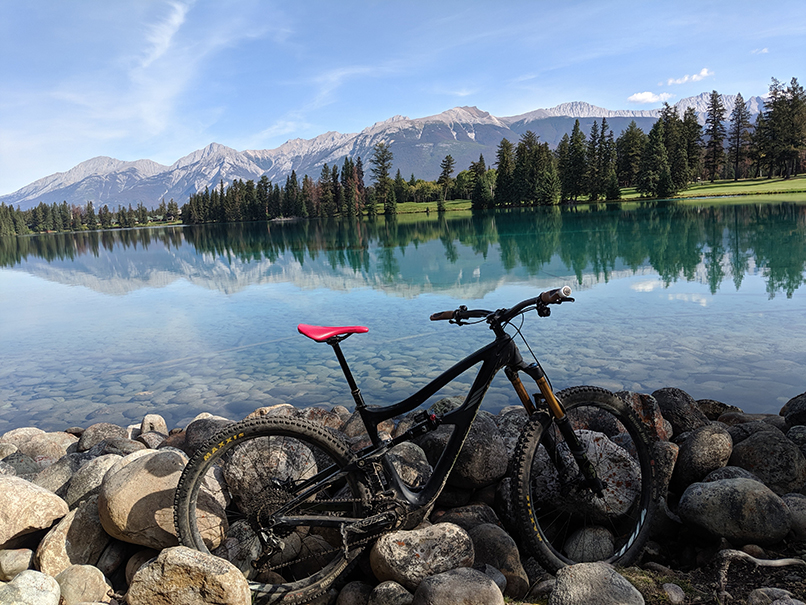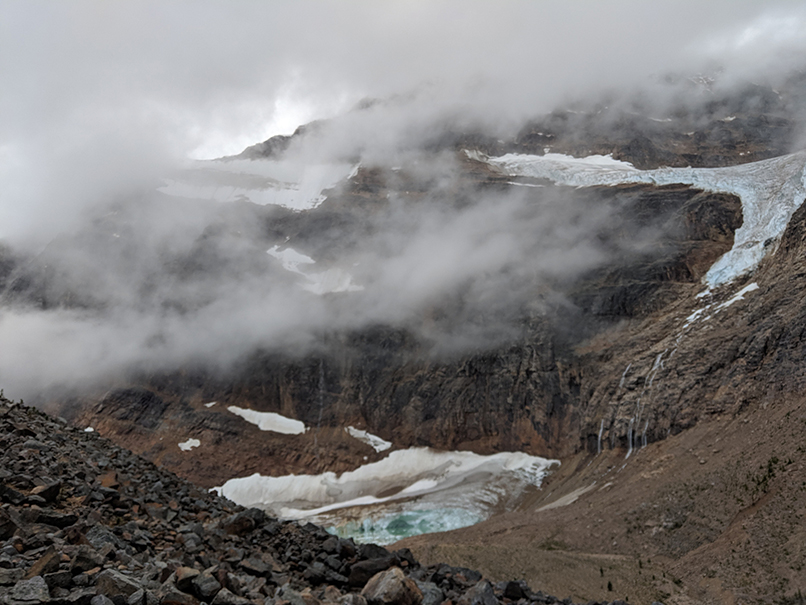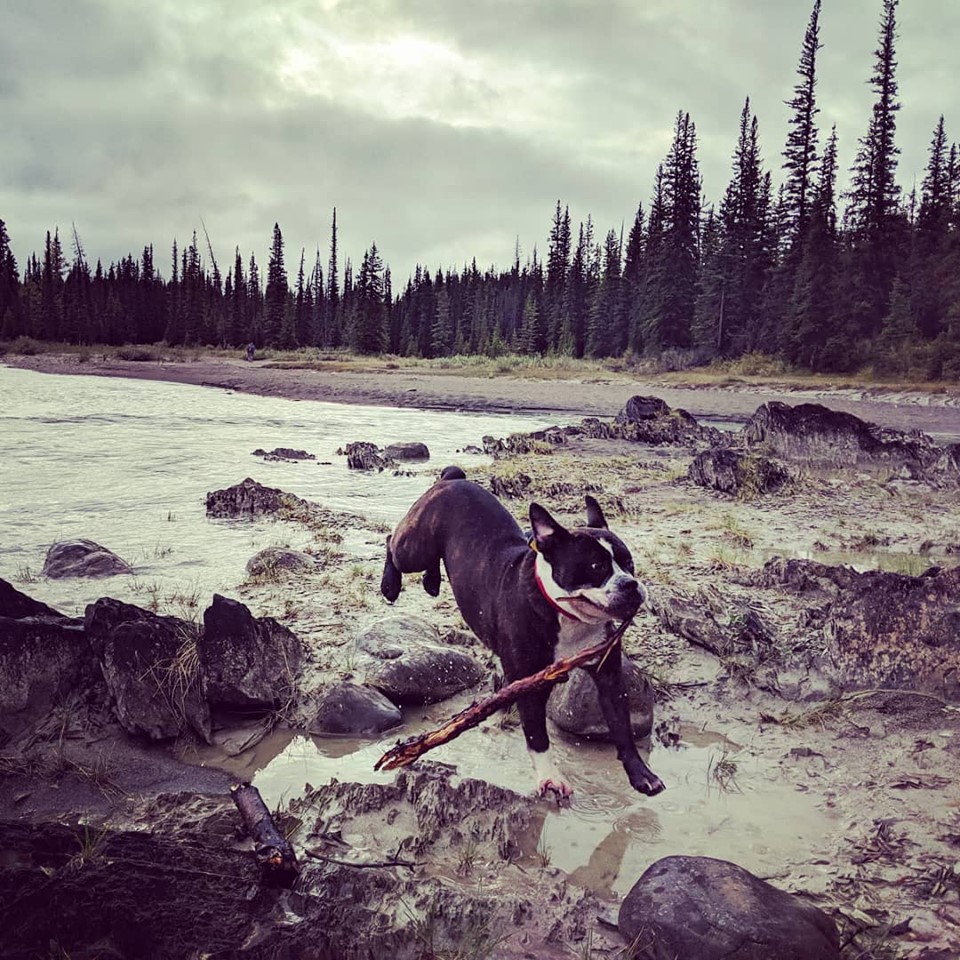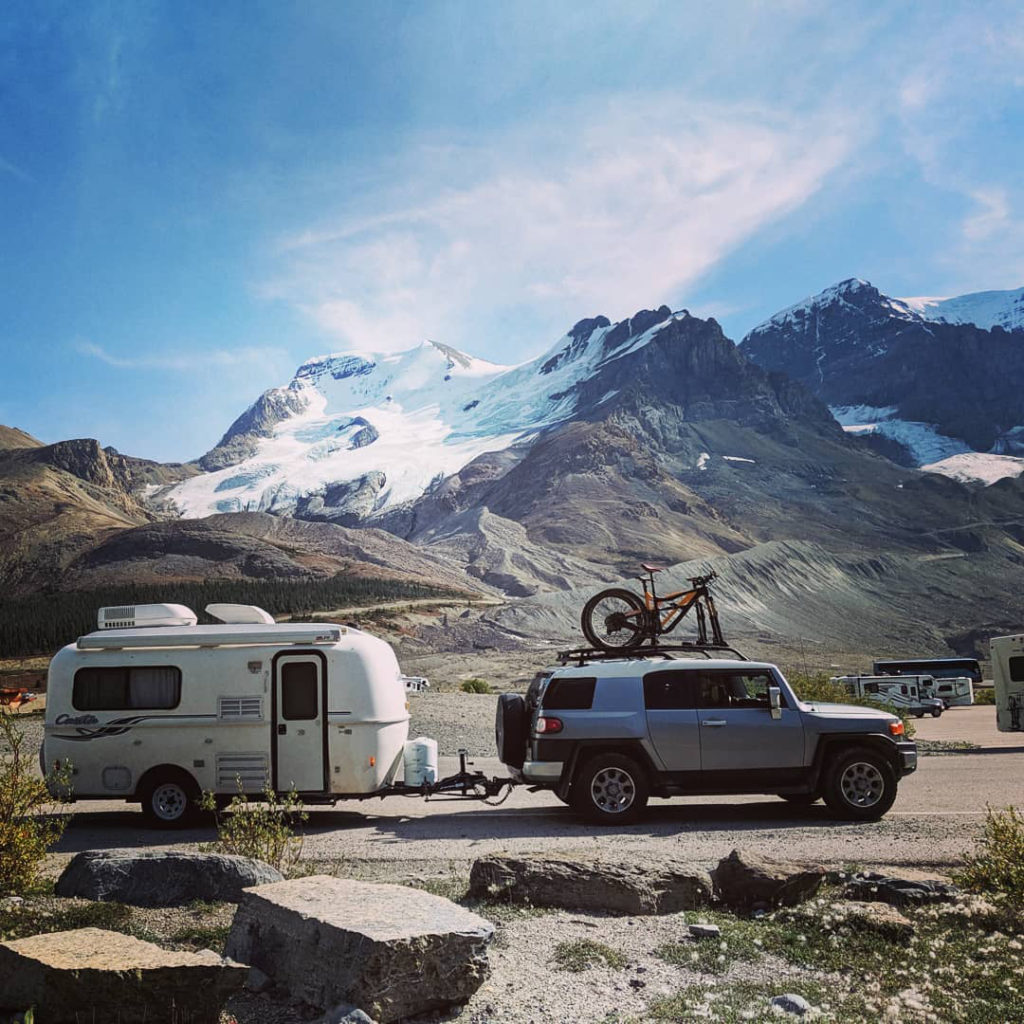 Leaving these wilderness-y areas we headed further into British Columbia to Kamloops, where we hit some "urban" mountain bike trails, and then Kelowna, where we skipped the dirt trails one day to ride a rail trail with impressively long wooden railroad trestles high up in the mountains.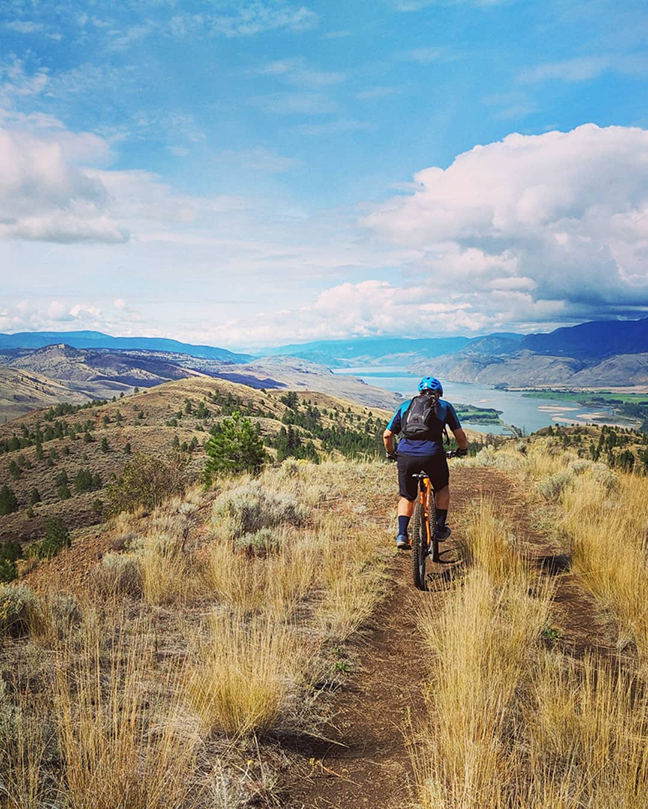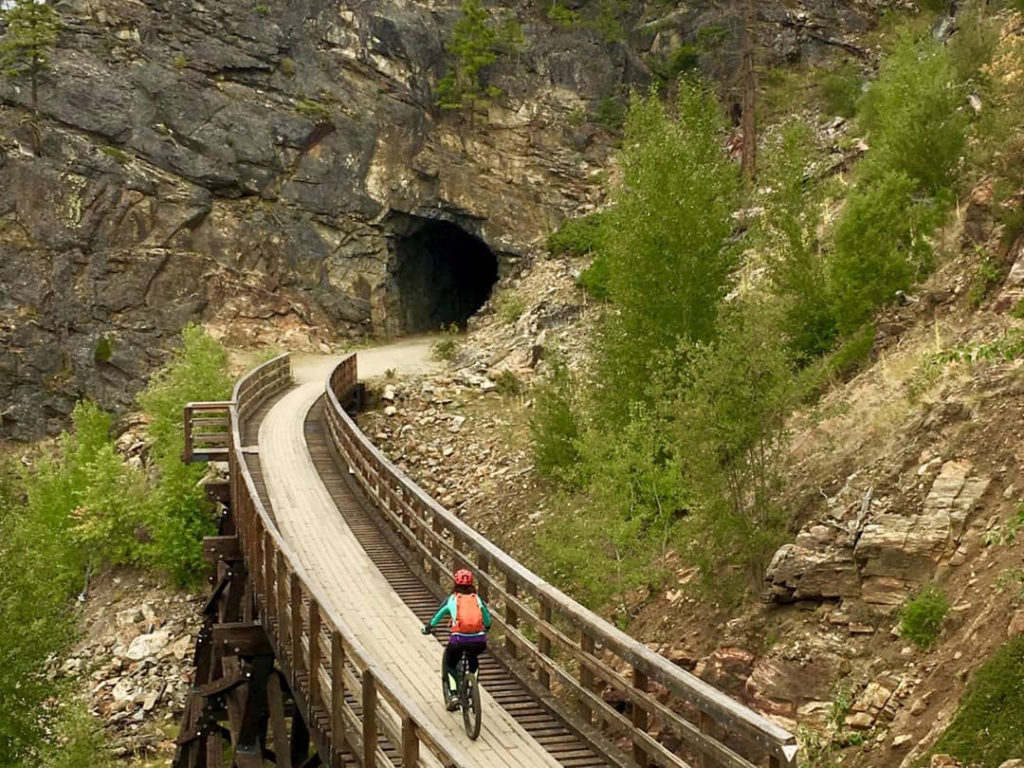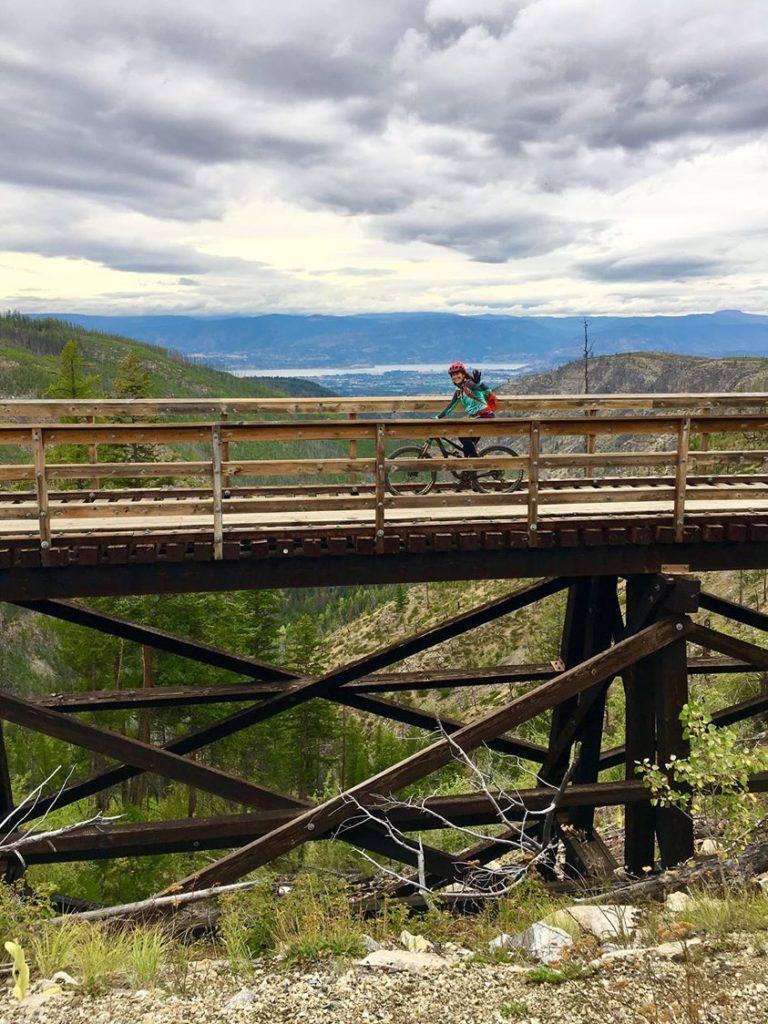 Kelowna was a bit of a revelation for me. You could call it the bread basket of Canada, a garden spot. It's warmer in the valley which results in a multitude of farms, orchards and vineyards. We went wine-tasting. Outdoor sports is a way of life here. A recreational trail alongside a river winds for miles through the city and beyond. I left Kelowna dreaming of an idyllic retirement location with proximity to the Rockies.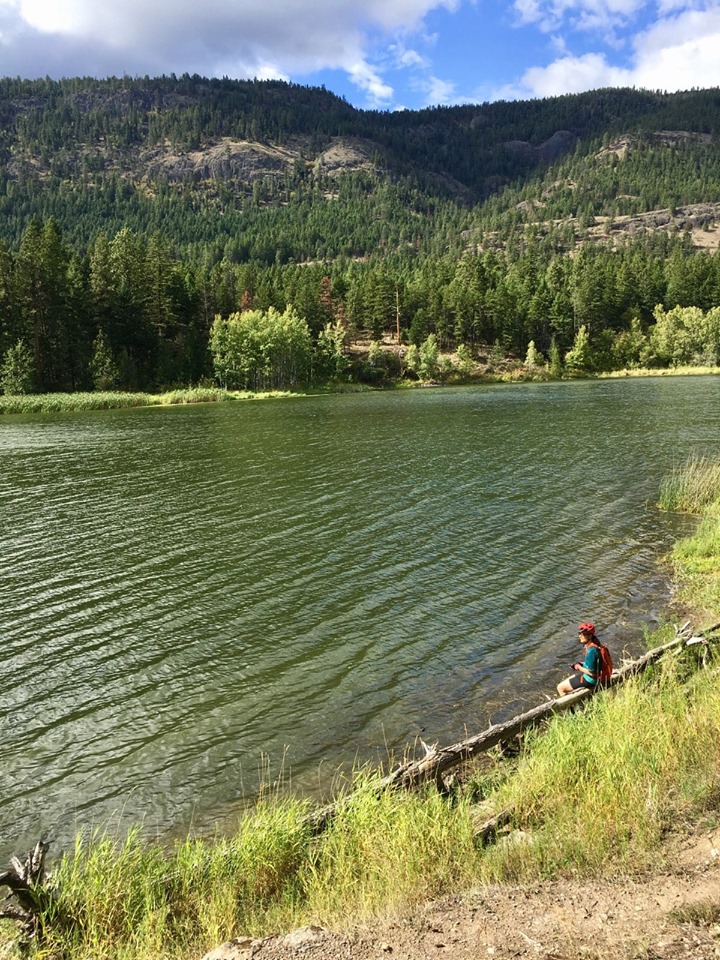 We needed to make another big decision. Continue west to the coast, and ride Vancouver, Whistler, Squamish? We were only FOUR HOURS AWAY. But when we looked at the weather, it was abysmal. Rain for days, and not just light rain – orange and red areas of pounding rain on the radar. Temperate rainforest riding or no, it was just not the riding experience we wanted to have. With sadness, we turned south, crossed the border and headed into eastern Washington.
I had never previously visited Washington so I didn't know what to expect. That first day we discovered Sun Lakes-Dry Falls State Park with incredible geologic formations, a wonderful  empty-ish campground and surprise mountain bike trails. Stoked!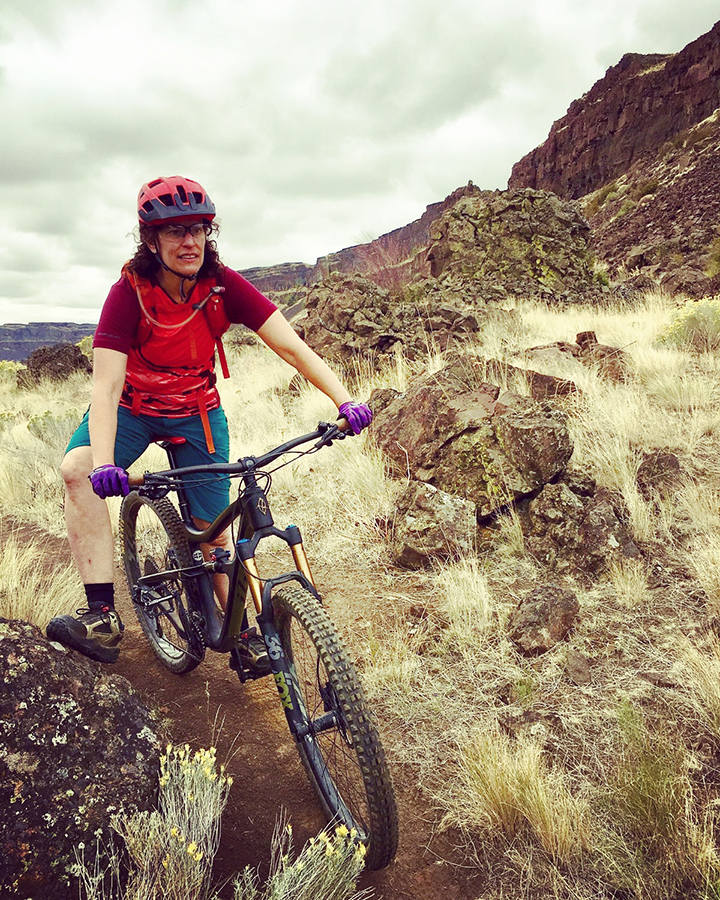 Mountain bike trails in eastern Oregon are scarce (must.return.to.Bend) so we quickly made our way to Idaho where one of the most wonderful things ever in the history of the world exists: Natural hot springs. Aaaahhhhhh.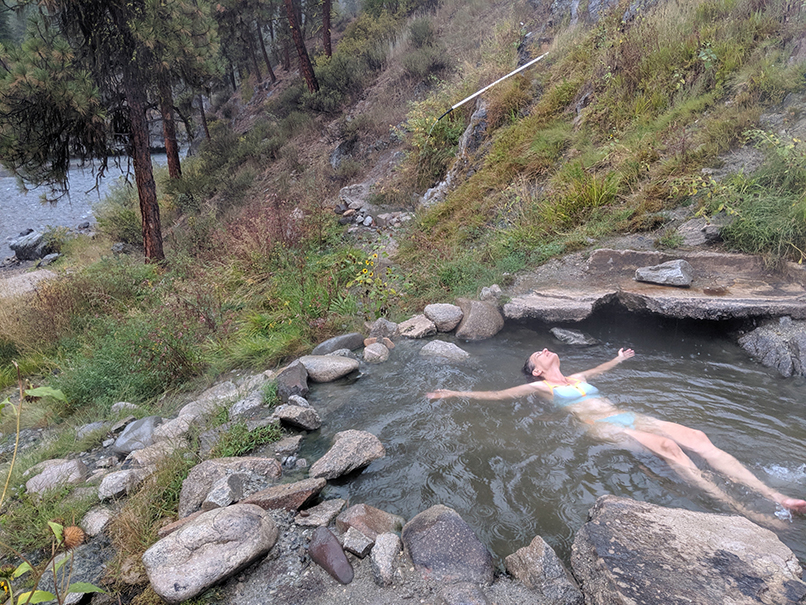 The Final Stretch
(Idaho, Wyoming, South Dakota, Nebraska, Iowa, Missouri, Indiana)
At this point we slowly made our way back east. Idaho and Wyoming were a delight to explore, from the aforementioned hot springs to a 'secret' stumble-upon waterfall along the Snake River to steep mountain passes with extraordinary scenery to some of the best downhill trails on the entire trip in Lander, WY.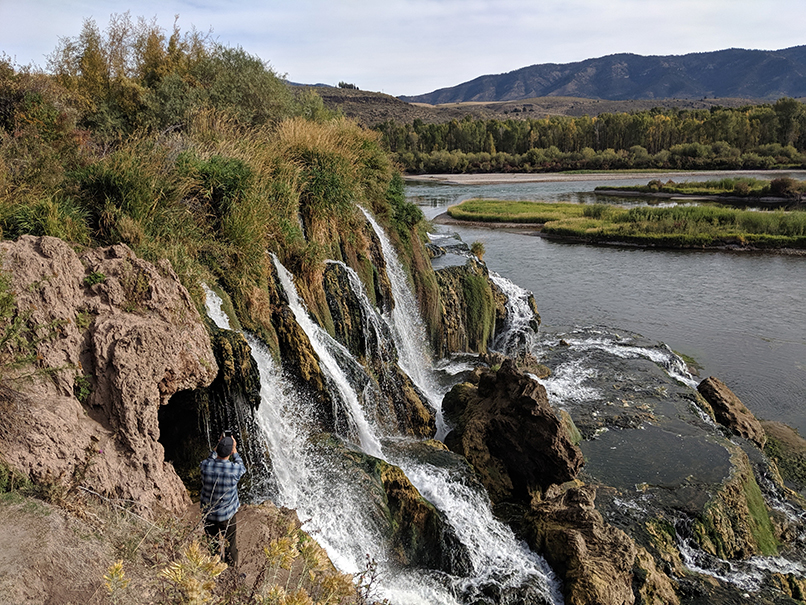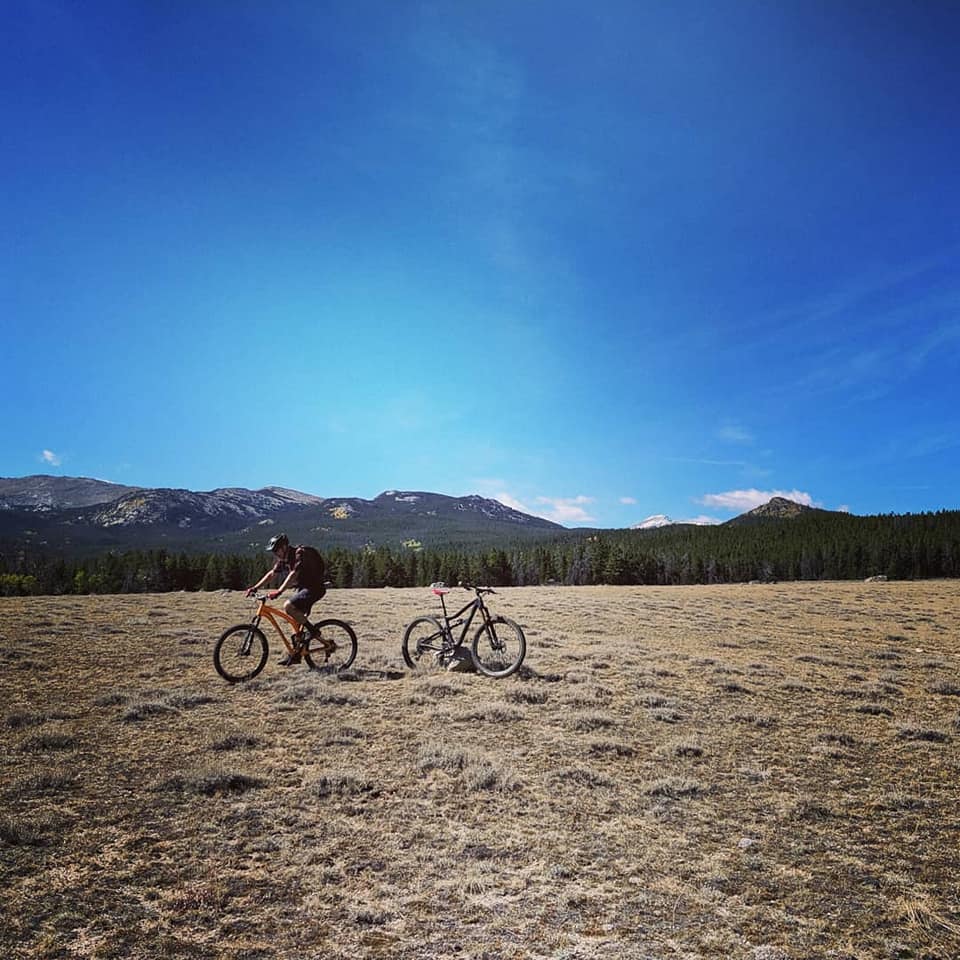 We encountered several days with steady rain and had to skip riding the Nebraska Cowboy Rail Trail and the spots we'd scouted for riding in Iowa. That was disappointing.
By the time we reached Missouri we were ready to spin wheels with our friend Rie and her band of Dirt Dames in Columbia, further south on the Ozark Trail, and then a few days later on the loose rocky trails of St. Louis.
~8,000 Miles Later… 
I write this three weeks after William and have returned from the trip of a lifetime: traveling and mountain biking through fourteen states and two Canadian provinces, pulling a small travel trailer with our SUV, along with two dogs and our bikes. My personal motto is "I brake for trailheads". I have wanderlust to explore new places and I'm curious to know what each and every trail is like. I need outside time every single day to wonder and admire nature's beauty.
At first it was hard to leave everything behind and disconnect, but it became easier to let go of the lifeline tethering me to home and work after the first week or so, and ease into the rhythm of road tripping.
At first it was hard to leave everything behind and disconnect, but it became easier to let go of the lifeline tethering me to home and work after the first week or so, and ease into the rhythm of road tripping. Then it became simultaneously simpler and harder to survive day-to-day on the road.
We never made it to Alaska, but wow, what an experience to explore so many unknown-to-us places on a slice of this continent. One of the best aspects of this trip is that we didn't really plan anything. We would decide together where to go next, and once there, decide how long we wanted to stay. Then we'd move on.
Sure, it was tough and stressful at times. Things broke, the space was tiny, there was no room to maneuver or put anything, everything took longer to do, we got irritated with each other, washing dishes without running water is hard, going for a sweaty ride and then not being able to shower so you go to bed cold is very unpleasant, camping in the rain just sucks.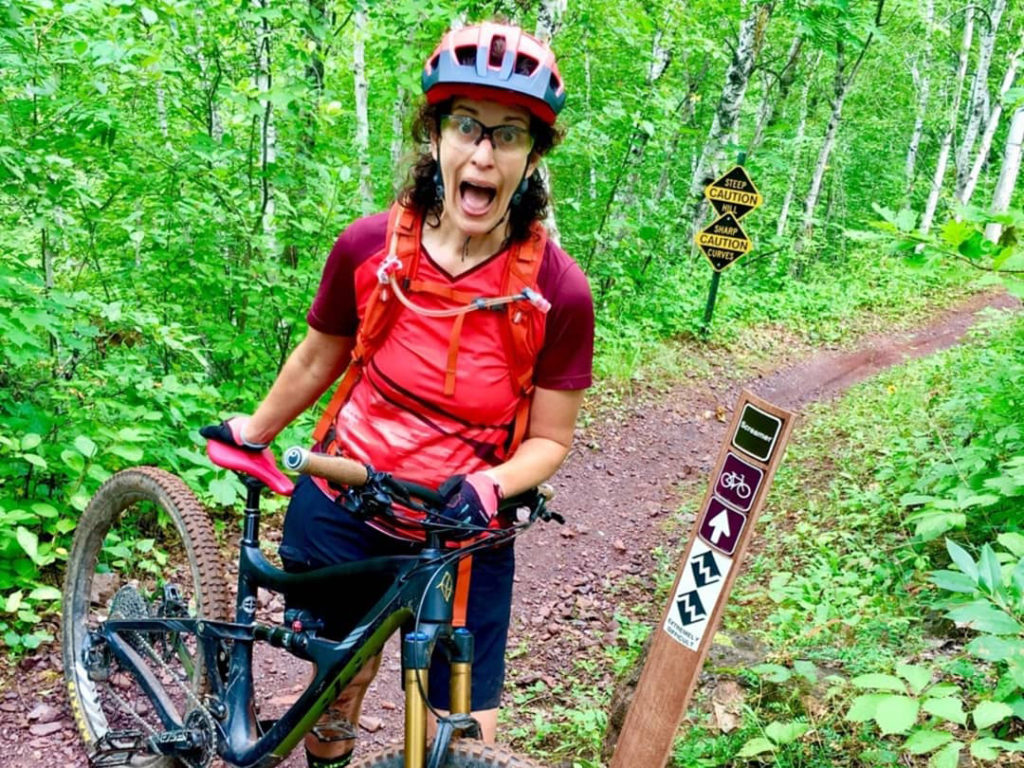 But there's marvels and revelations around every corner, everywhere you go, and it's not just in the popular, crowded, busy places. It's especially not in those places. It's important to pay attention to the details, live in the moment, welcoming to change, and be present for the beauty in this world.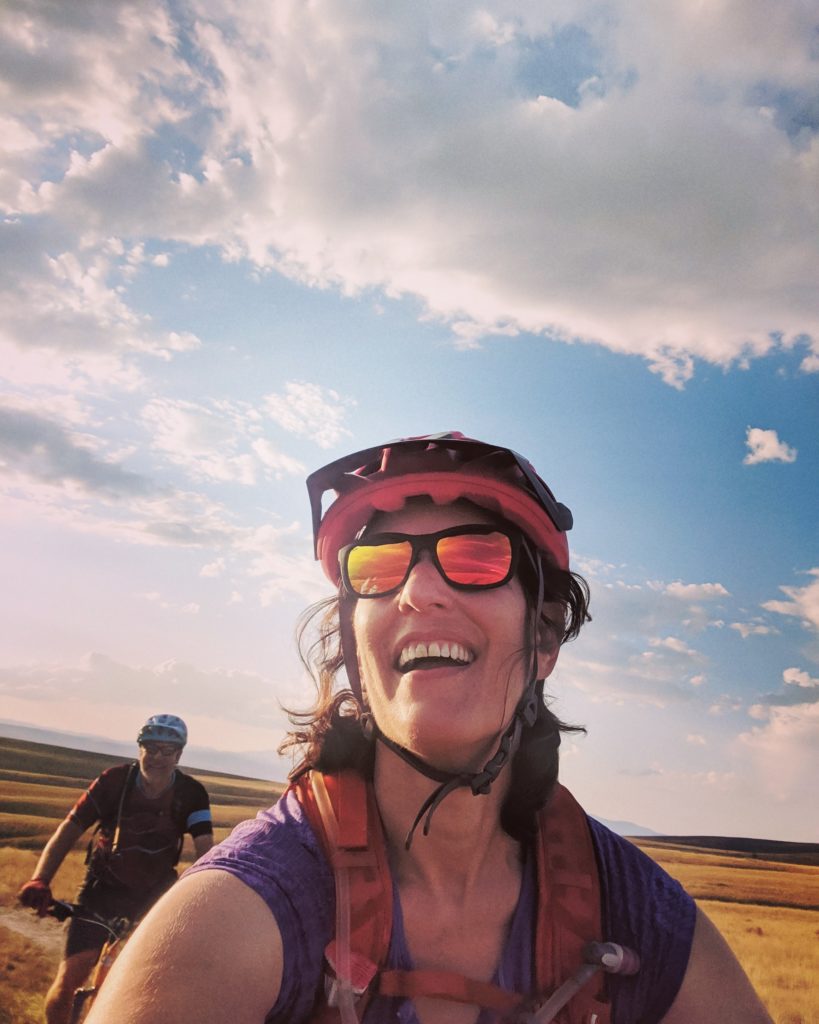 There's marvels and revelations around every corner, everywhere you go, and it's not just in the popular, crowded, busy places. It's especially not in those places.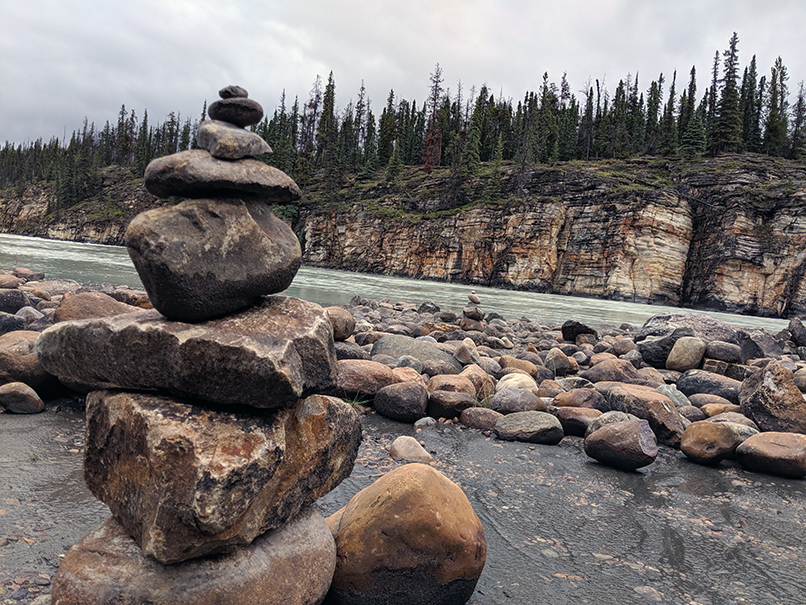 ---
BONUS! Best and Worst of The Big Trip
On our last morning, camping outside of St. Louis, William and I sat around breakfast at the picnic table and compiled this list. In no particular order:
Best overall mountain bike trail system: cayuna Lakes, Minnesota

Best single trail segment: coal chutes, Canmore, CAN

Best MTB town: Fernie, BC, CAN

Best shopping experience: Kelowna farmer's market

Best mind blowing landscape while riding: banff NP

Best general mind blowing landscape: Jasper NP, Alberta CAN

Best technical trail system: rattlesnake MTN, Missoula MT

Friendliest bike shop(s): Glacier Cyclery and Nordic, whitefish MT and GAnnet peak sports Lander, WY

Trail with the most annoying PUDS (pointless ups and downs): Pipestem Creek Trail, Jamestown north Dakota

Town with the fittest population: Ketchum ID

Town with the cutest uncontrolled feral bunnies: Canmore, Alberta, CAN

Best rail trail: Myra canyon, kettle valley RR, Kelowna, CAN

Best campground (s): Sinks Canyon State Park, Lander WY and Tally Lake, Whitefish MT

William's favorite overall ride: Gorby and Far Out, Fernie, Alberta, CAN

Julia's favorite overall ride: Upper and lower Brewers, Lander WY

Best natural hot springs: Frenchman's, Ketchum, ID

Best restaurants to eat breakfast and charge electronic devices: lone pine cafe, Baker City, OR and Big Bang Bagels, Fernie, CAN

Most outdoor gear/cycling shops per capita: Fernie, CAN
Best meal: Vistas, Banff Centre, CAN
Worst tourist crowd town: Banff, CAN
Favorite bike shop and cafe: Red Raven, Crosby, MT
Best surprise mountain biking trails: Dry Falls State Park, coulee city, Washington
Best stumble upon campground with surprise MTB trail: Schnell Recreation Area, North Dakota
Worst riding day: Phillips Lake, Oregon
Best surprise waterfall: Fall Creek Falls, Swan Valley, Idaho
Best beer: Lolo Creek Brewery, Lolo, MT
Best place for William to finally destroy his Niner bike: Hanson- Larsen Memorial Park, Rapid City, SD
Best Urban MTB trail system: Kelowna, BC, CAN
Best brand new trail system: Copper City, MT
Best new word learned: 'Skookum' (of a person or animal – strong, brave, or impressive – used to describe Violet the bulldog)