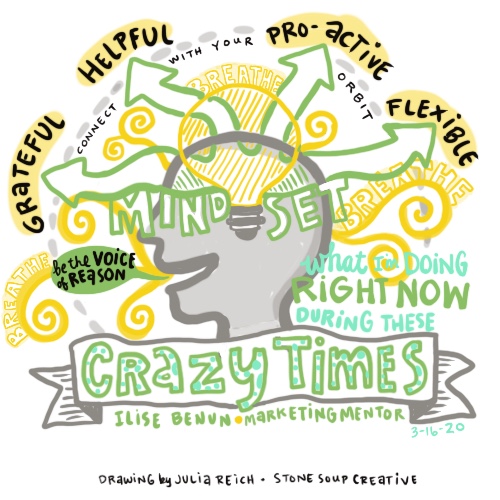 Today I listened to the calm and compassionate wisdom of Ilise Benun of Marketing Mentor, who coaches small creative businesses. I've been following her for years. She shared a video on her blog, What I'm Doing Right Now, and I followed along with a digital drawing on my iPad.*
Like all of us, Ilise has no idea where this is all going, but advises us to focus on our positive mindset. Here's several points she touched upon:
1. Be grateful. Heck, I know how work from home, I've been doing it for over 20 years. And I'm a creative introvert, so I know how to entertain myself. I'm grateful for this experience. I'm also grateful for the community of visual practitioners that is stepping up to help all of us. On Friday I posted a comment in a FB group about learning zoom and combining it with digital scribing and I had *two people* message me to jump on a call right away to teach me how to do it. And I have another friend who was willing to practice with me in advance of an upcoming gig.
2. Be flexible. Every event for the foreseeable future is cancelled. All my in-person graphic recording work has dried up. I'm worried. But I'm also willing to try working remotely. It will entail learning a new skillset (online tech tools – scary! but do-able).
3. Be proactive. Ilise suggests we reach out to our clients to offer creative solutions – and not wait for them to tell us what they need.
4. Be helpful.  I'm not sure how to act right now. I want to help my clients and be supportive, but what is the right tone to take? One of them is a nonprofit that focuses on making health data accessible in his state. He's consumed with pivoting to be COVID-19 relevant. Will I be "bothering" him if I reach out? Or worse, will I sound exploitative? Hey wait. I'm a creative expert. I'm a communications professional. I know my clients and my market. I'm sure I can help him, and others, problem solve, and advise on what to say, how to say it, and when.
Finally: Be calm. Fear is contagious. Breathe. Be the voice of reason during these Crazy Times.
* Want to see a time lapse video of the drawing take shape? Check it out here ›
Want more on Visual Communication and Visual Thinking? Here's some related content for you.
Top Ten Doodles for Visual Communication
Drawing out concepts and ideas instead of writing down words is an effective way to communicate. Doodles are simple shapes and symbols that can be drawn in all kinds of situations. Plus it's fun, and you don't need to be an "artist" to do it.
Download the PDF