Background
Both the Office of Communications and Marketing and the Office of New Student Transition Programs at Indiana State University felt there could be an improvement in the materials prospective students received to inform them about orientation.
Challenge
To kick things off, our approach to meeting with teams from both offices was to be curious – ask a lot of questions and do a lot of listening.
From preliminary email conversations with the Vice-President of Marketing and Communications we knew he felt there could be an improvement in the materials prospective students received to inform them about orientation. There seemed to be a disconnect between the engaging, high-energy event itself and the stuffy, perfunctory collateral applicants received in the mail prior to and after arriving on campus. A new campaign was needed – one that was bold, creative, clever, and fun.
But the problem was a little more nuanced than that. We knew from my past experience working with higher ed that freshman retention is a big deal.
Here's how the sequence of events works:
Student visits ISU on their own
Student applies
Student is accepted
Student is invited to orientation
Student attends orientation
After this last transition event, the student decides whether to commit to four years of college at ISU. This is a critical opportunity for the students to connect with the brand as well as the organization. The university really, really wants them to attend. They need a strong student population to function as an institution of higher education. The experience young people have during orientation weekend is critical, and creating materials along each step in the sequence is an opportunity to engage them (and their parents) and make them feel welcome.
At the first meeting the client provided me with descriptive adjectives: things the event already authentically is and characteristics they can strive towards becoming:
Fun

Not stuffy

Bold

Creative

Inclusive

Clever

Straightforward

Clean
In this initial fact-finding meeting, we also learned three things:
The school had recently been re-branded as "State" in order to avoid confusion with Illinois State University and Iowa State University which share the ISU acronym





Indiana State refers to itself in ad campaigns as "blue"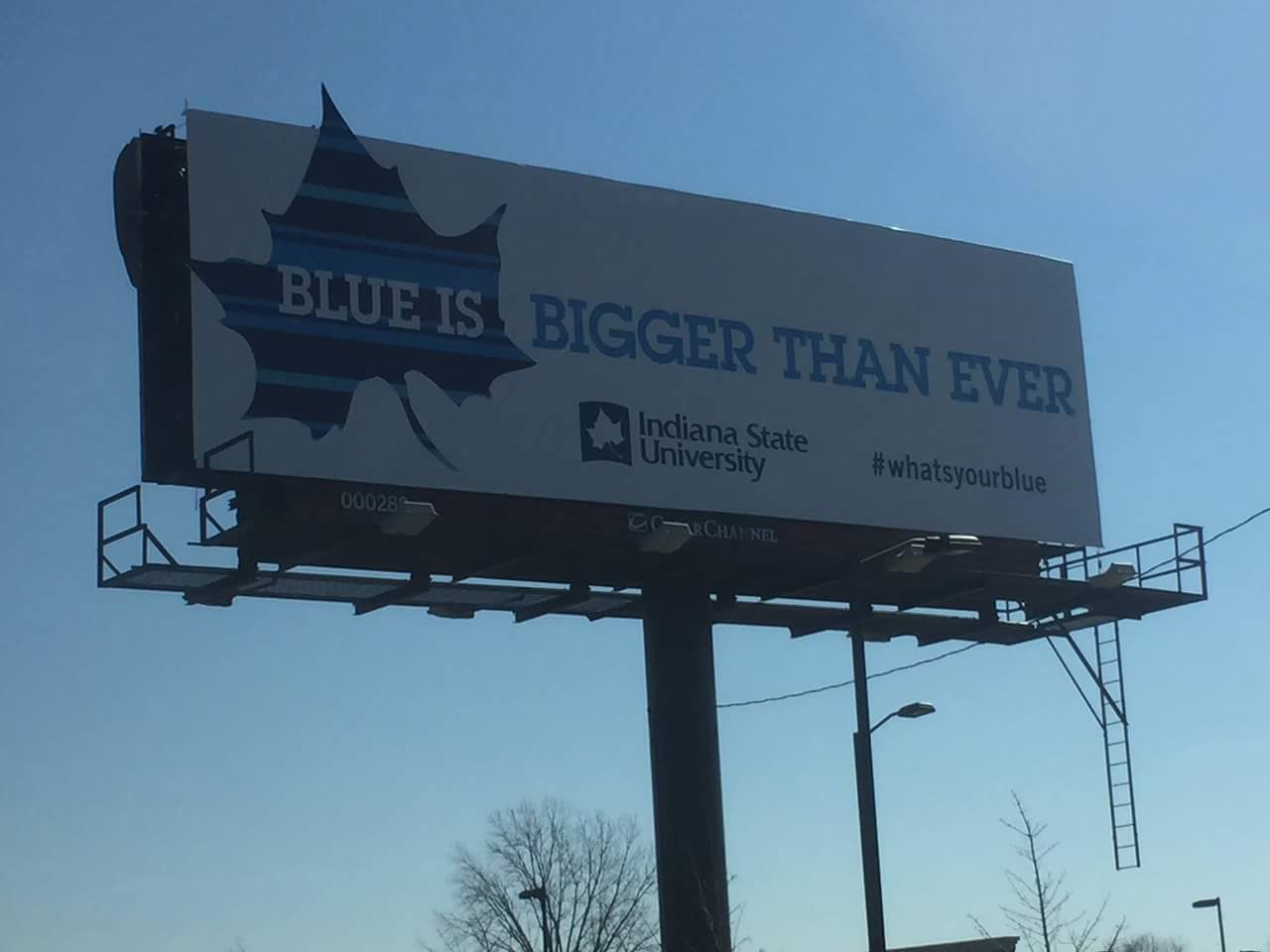 3. ISU students are nicknamed 'Sycamores'. Events and language around campus pick up on this nomenclature. For example, at sports games the audience cheers "Go trees!" and "Fear the forest!"
Solution
Back in the office we began researching other schools' orientation campaigns and found that many schools did not have a unique message for their campaigns, they simply designed a stylized lockup with the name of the school, the year, and the words 'student orientation' (or similar).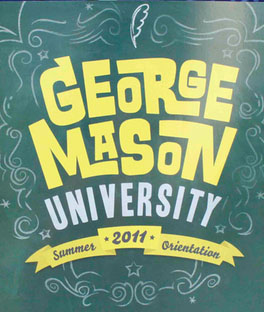 We brainstormed preliminary ideas and winnowed it down to these four:
1. Blue theme: We generated a few messages that spoke to inclusivity and student success, figuring this would be an accessible option for them, simply by piggybacking on the existing university-wide slogan.
Better with Blue
You and Blue
Sky's the Limit
Your Blue, Your View
[In general our philosophy with initial presentations is to present several ideas for the client to choose from, ranging from a safer approach to something bold and different that might take some courage to embrace.]
2. Class of 2020 theme: New materials could refer to the incoming class' graduation date, for example:
2020 Vision
Me. You. 2020.
However, the problem with this approach would be the need to re-invent NSO each year.
3. State theme: Be Great at State!
We could pick up the leaf in the 'A', but make it into more of a high octane design than the others, something dynamic and really exciting.
4. Forest theme: We thought ISU's mascot Sycamore Sam – a gender-neutral "woodland creature" – could make an appearance as a fun spokesperson, a sort of trail guide/park ranger through the "woods" – aka campus and college life. MarComm admitted having never used him before for any of their campaigns.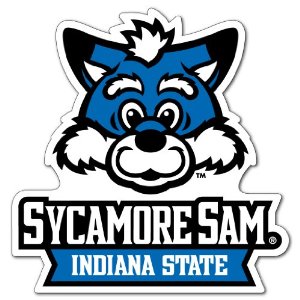 On this theme we generated several slogans, envisioning accompanying playful, camp-y style imagery:
Welcome to the Woods
Explore, Sycamore!
Your Woodland Adventure
See the Forest for the Trees
You are Here
This was the direction we were most excited about and felt encompassed more of the attributes from the list above than the others.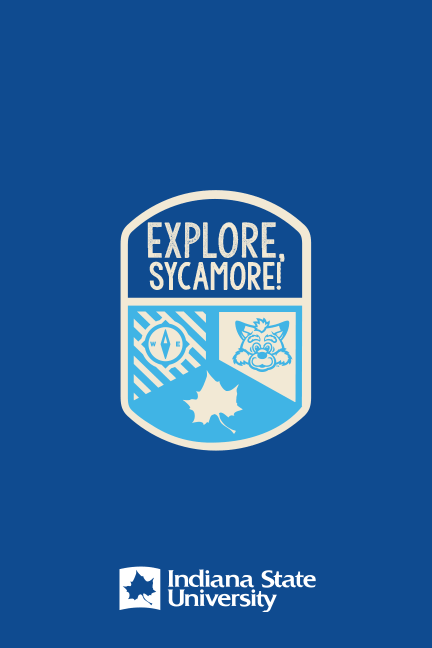 Next, we mocked up each of the four concepts and presented them to the Marketing and Communications team. They picked two favorites:
You and Blue, which they felt was "right in line" with a wholly different campaign they were developing for another project, More to Blue.
They were also enthusiastic about Explore, Sycamore! for these reasons:
Lockup was a badge that could stand out against any background, and includes both Sycamore Sam and the iconic Sycamore leaf

Lockup is flexible enough to incorporate a variety of orientation events by switching out the words underneath the badge; for example instead of "New Transfer Student Orientation" it could say "Fall Welcome"

Look & feel works for older students, not just freshmen
Note: we discovered that using the word "woods" (as in Welcome to the Woods) was a misstep since nearby college St. Mary of the Woods lays claim to that moniker.
Finally we presented the two selected campaigns to the New Student Transition Programs team – and Explore, Sycamore! was the clear winner (hooray!).
Channeling our inner Don Draper, here's how we pitched the concept:
For students coming straight from high school or those returning to higher education, navigating campus life can be a challenge. Orientation is a two-day on-campus event developed to help new students anticipate some of the changes that will take place as they begin their university career. Explore, Sycamore! features a rustic wayfinding theme as a directive for new students to boldly take the reins of their new educational experience.
Results
Over the next eight months we worked iteratively with ISU to design and present each piece in the new campaign as the 2016 academic year unfolded, including:
T-shirts

Postcards

Handbooks

Name tags

Signage

New Student Orientation Guide

Move-in mailer and map
Letters and envelopes
Folders
Parent calendar